A dead chipmunk has tested positive for plague in the Lake Mary area of Mammoth Lakes.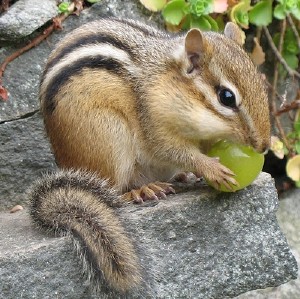 The dead chipmunk was found near cabins in the Upper Falls tract. Debra Hein, Acting Safety Officer for the Forest Service, said that Mono County Health will post signs to keep the public informed. Health workers will do some surveillance next week to determine any further steps.
Plague is a natural occurrence in the Eastern Sierra and does turn up frequently. With precautions, there need be no problems.
Authorities recommend that if you see dead rodents, don't touch them with your bare hands. Use gloves and bag them up. Call the Health Department. Also, wear repellent against rodent fleas which carry the plague. Keep your pets out of rodent burrows and areas where plague is confirmed.
In Inyo County Environmental Health Director Marvin Moscowitz said their extensive monitoring program continues. He said no elevated levels of plague antibodies have been found in rodents tested.
Last year, plague was detected at the Millpond park. Not this year, so far. Moscowitz said workers are dusting rodent burrows with flea powder, trapping animals for tests and monitoring. So far, so good.