Mono Narcotics Agents initiated the investigation and with help from the Recording and Movie industries arrested two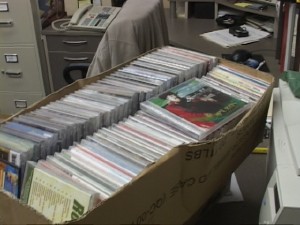 Mammoth people on allegations of possession of counterfeit CDs and DVDs. They are now set for court in December.
Assistant District Attorney Tim Kendall said that he filed the same charges against Cindy Flores and Hector Gomez in separate cases. Both suspects face felony counts of possession of pirated CDs and DVDs and possession of these products for sale. Flores faces further charges of distribution of prescription drugs without a license.
Agents allege that Gomez and Flores were selling the counterfeit products out of their stores – Espazio and La Tiendita. Agents said that a search warrant served at Gomez's home in the Trails in Mammoth netted confiscation of some 300 illegal CDs and DVDs.
Representatives of the Recording Industry Association of America and the Motion Picture Association came to Mammoth to help identify counterfeit products. The defendants are scheduled for court arraignments December 7th. They are out of jail on bail.