A Mammoth Lakes resident, arrested for selling counterfeit CDs and DVDs, has been sentenced.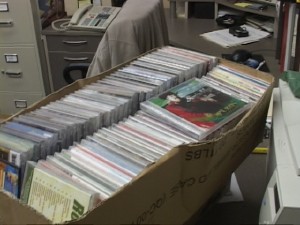 Assistant Mono County District Attorney Tim Kendall reports that Cindy Flores pleaded to one felony count of possessing counterfeit CD's and DVD's for sale and a misdemeanor count of dispensing prescription drugs without a license.At the time of the arrest, officers said that the prescription drugs included antibiotics.
Kendall reports that the case started off as a narcotics investigation, but took a turn when it appeared that counterfeit CDs and DVDs were found.
In November of 2009, representatives of the Recording Industry Association of America and the Motion Picture Association came to Mammoth to investigate pirated CDs and DVDs at two Mammoth stores, La Tiendita and Espazio. These two industry groups reportedly verified the illegal CDs and DVDs at the two stores and informed local law enforcement, who made the arrests.
23-year-old Cindy Flores, with La Tiendita, was arrested for selling pirated CDs and DVDs along with trademark violations, and allegedly for selling prescription medications including antibiotics which had been smuggled in from Mexico.
As part of the sentence, Flores also has to pay fines and about $2600 in restitution to the Recording Industry.
Officers also arrested the owner of Espazio, 42-year-old Hector Villapando Gomez, on charges of selling pirated CDs and DVDs. He pleaded guilty to one misdemeanor count of possession for sales of counterfeit CDs. Gomez was sentenced two years probation, fines and $1400 in restitution to the Recording Industry.