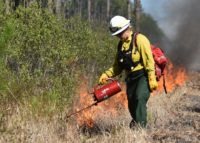 Fire crews on the Mammoth Ranger District plan to pile burn near Old Shady Rest Campground today, weather and air quality conditions permitting.
There are eight piles  that crews were unable to complete last year, north of Old Shady Rest Campground on the west side of Sawmill Cutoff Rd.
Smoke will be visible From: Mammoth Lakes, Hwy. 203, Sawmill Cutoff Rd. and Shady Rest Campground
Crews are taking advantage of the recent weather to complete these piles. By burning the piles in the winter, we safely remove the fuels and that will reduce fire risk to the community during hotter, drier conditions. Fire is also an essential ecosystem component, recycling nutrients to the soil, opening gaps in the canopy that encourage regeneration, which leads to  greater biodiversity for both plants and animals.
Deb Schweizer
Public Affairs Specialist
Forest Service
Inyo National Forest