Press release
Saturday, September 8 at 10:00 AM in Bishop, CA (Bishop City Park)
Picnic for the Planet Planned for September 8 in Bishop
Bishop, CA – Planning is underway for fun and family-friendly Picnic for the Planet-Keeping the Eastern Sierra Clean & Green to be held in Bishop on Saturday, September 8. The event is free, open to folks of all ages, and will run from 10 AM to 1:30 PM at the front of the Bishop City Park. The Picnic for the Planet will celebrate our special Eastern Sierra landscapes and all that they provide us – water, outdoor recreation, wildlife, agriculture, jobs and more.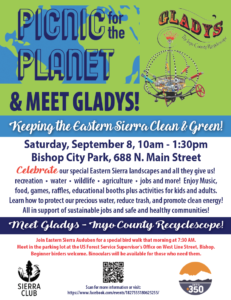 This event is being coordinated by INYO350 and the Sierra Club with the help, support and participation of many local volunteers and groups. Event planners include Harold McDonald, Jess Ary, Alondra Figueroa, Nancy Upham, Julie Tiede, John Louth, and Fran Hunt. They are inviting Eastern Sierra residents and visitors alike to show up and enjoy a fun and informative day in our beautiful City Park with local music and talent, great food trucks, informational booths, games, raffles, and activities for kids and adults.
Among the many groups participating will be Wildcare Eastern Sierra – and they will bring some of their wonderful animals for folks to meet. Picnic goers will also be able to meet and enjoy Gladys – the Inyo County Recyclescope! Early risers are invited to take part in a specially planned bird walk with Eastern Sierra Audubon volunteers that morning at 7:30 AM. To participate in the bird walk, please meet in the parking lot at the U.S. Forest Service Supervisor's Office on West Line Street. Families and beginner birders will all be welcome and binoculars will be available for those who need them.
The Picnic for the Planet is being organized to offer a great opportunity for local community volunteers and organizations to spread awareness of how we can all do our part to protect our precious local water resources, benefit our wildlife, reduce trash, promote clean energy, and safeguard the climate – all in support of sustainable jobs and safe and healthy communities.
As event volunteer Jess Ary explains, "I was drawn to the Eastern Sierra by its natural beauty and amazing outdoor recreation. I want to see our region stay healthy and vibrant. We can all do our part to keep the Eastern Sierra clean and green and a great place to live."
Local rancher, Maria Kemp added, "Water is our most precious resource. When we safeguard and defend our water, we are defending our local agriculture, recreation, and tourism businesses and economies that all depend on the health of our area's rich landscapes."
Picking up on the theme of protecting what's critically important, Harold McDonald, INYO350 President, noted, "Our area faces pressing threats, large and small, that deserve our best thinking and actions. We know that we are in an era of climate disruption that is affecting and changing our communities and our environment. We all have a part to play locally – individuals, businesses, and elected government leaders – to reduce waste and trash, promote clean energy, and create the green sustainable jobs that will move us to a healthier future."
The Picnic for the Planet-Keeping the Eastern Sierra Clean & Green is a locally planned event that is also part of the international Rise for Climate, Jobs & Justice mobilization to promote a fast, fair, and just transition away from fossil fuels to a 100% renewable energy economy. As Fran Hunt, the Sierra Club's Eastern Sierra Organizer, points out, "Rise for Climate, Jobs & Justice events are taking place worldwide on September 8 to focus on the urgency of protecting the most vulnerable communities already impacted by climate change and creating good paying jobs and opportunities for all."
Volunteers are needed to help in the City Park at the local event.  Please contact Jess Ary at [email protected] if you would like to volunteer to help make the day a fun and successful one. Community groups are invited to apply to have a table at the event. Please contact Julie Tiede at [email protected] or 760-915-0052 if your group or organization would like to have a table.