(Press release from Bishop Police, Public Information Officer Katie Coffman)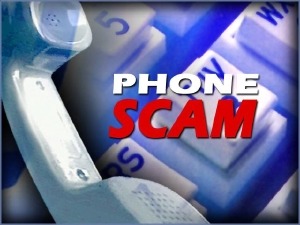 The Bishop Police Department would like to advise the public and make aware of a current telephone scam circulating the City of Bishop. Bishop Police Officer's have recently taken several incidents involving citizens receiving telephone calls where the subject on the other line is asking for money.
How this scam works is; someone will call your house phone number and pretend to be someone in your family and that he or she was in jail. Because of your concern you may inadvertently provide a family members name. They now have some information to keep you believing your grandson or other family member is in jail. Then someone else will get on the phone, pretending to be a law enforcement officer and tell you that your grandson or some other family member has been arrested and he needs bail money. The subjects on the phone will proceed to tell you the only way to get him out of jail is to send bail money, cash only to an actual address in Mexico. They will ask you to send this money by Western Union in large amounts such as; $2,400.00 or more.
We are asking the public to please be aware of this scam and to not give any cash out when asked unless the situation can be verified by your local law enforcement agency. Sending large amounts of cash out is very risky and the chances of getting all of your money back are not likely. If you can, please stop and think about what the caller is asking of you and check the validity of the circumstances.
If you have any questions or concerns regarding these types of calls or scams, please call the Bishop Police Department and ask for Det. Rossy at (760)873-5866.