Inyo County Sheriff's press release
The Inyo County Sheriff's Office has received reports that residents in Inyo County have been the recipients of fraudulent phone calls from a man who claims he is from the United States Department of Treasury, or the Internal Revenue Service.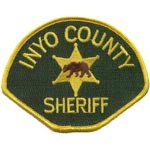 The man says that the recipient of the phone call has "back taxes" due, and in order to avoid being arrested they must provide payment in the next 45 to 60 minutes.  The caller further states that, if the back taxes are not paid, the phone call recipient will be arrested by an agent who will come to their house and hold them without bail. Payment is requested in pre-paid debit cards only. The Sheriff's Office has also received reports that a female caller sometimes follows up requesting the same actions as the first caller. Reports have indicated that the calls are frequent and numerous. These calls are fraudulent.
According to the IRS:
If you get a phone call from someone claiming to be from the IRS, here's what you should do: If you know you owe taxes or you think you might owe taxes, call the IRS at 800-829-1040. The IRS employees at that line can help you with a payment issue – if there really is such an issue.
If you know you don't owe taxes or have no reason to think that you owe any taxes (for example, you've never received a bill or the caller made some bogus threats as described above), then call and report the incident to the Treasury Inspector General for Tax Administration at 800-366-4484.
If you've been targeted by these scams, you should also contact the Federal Trade Commission and use their "FTC Complaint Assistant" at FTC.gov.  Please add "IRS Telephone Scam" to the comments of your complaint. (http://www.irs.gov)
The Inyo County Sheriff's Office also wants to remind residents to contact local law enforcement as well if you have experienced a phone scam (like the one mentioned above).  When the Sheriff's Office is informed of these scams, we can help inform the public, and ultimately arm our residents with valuable information.  Stay safe and stay informed!