Long time resident of the Owens Valley, Philip Edward "Pep" Partridge passed away Monday, July 9 at his home on Bishop Creek. He was 91 and the last of 9 siblings in a local pioneering family.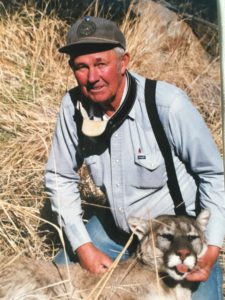 Pep Partridge was born to Charles A. and Lena Partridge on March 12, 1927 in Bishop, California. He grew up, with all his brothers and sisters, on the family ranch (now the Yribarren ranch) south of town, graduating from Bishop Union High School in 1945. He promptly joined the navy, and upon his discharge, attended University of California, Davis for a time, before returning to Bishop to work the ranch and build houses. In his time as an independent carpenter, Pep worked on many of the older residences in the community. Pep then went to work for Cal Electric (which would become Southern California Edison), from which he would retire in 1987.
Pep Partridge was also a volunteer fireman and enthusiastically used his pyrotechnic license to stage Bishop's annual Fourth of July fireworks display. He served on the Inyo County Grand Jury, taking pride in his civic involvement. Pep passed many of his post-retirement years as a volunteer with the California Department of Fish and Game, delighting in his role working the deer, sheep and lion management programs. He loved gardening, spending hours in his vegetable garden and raising high-altitude test roses for Jackson and Perkins. Pep loved his family, roses, and John Wayne.
He is survived by his loving wife, Nancy Partridge; his first wife, Carol Sheldon; his daughter, Phyllis Bateman; his son Alan and his wife, Julie; his grandchildren: Drew Bateman and his wife, Jillian; Devon Johnston and her husband, Jack; Daphne Monson and her husband, Joe; Ashlee DiMare and her husband, Zack; and Thomas Partridge and his wife, Laura. Pep has eight (nearly nine) great-grandchildren: Whitney and Levi Monson, Avery and Campbell Johnston, Daniel Boaz and Hannah DiMare; and Sutton and Elena Partridge. Pep also leaves behind numerous nieces, nephews and cousins.
Pep is preceded in death by his siblings Charles "Kid" Partridge, Jack Partridge, Dorothy Moxley, Betty Partridge, Enid Ashworth, Helen Milligan, Marion O'Neil and Bill Partridge, as well as his daughter, Linda, who died in childhood
A memorial and celebration will be planned for Pep and his family at a later date.