PETS of the WEEK – July 28, 2010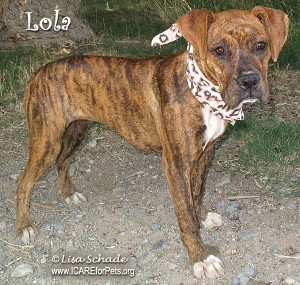 LOLA is a stunningly gorgeous, petite 8-month old Boxer puppy with a spectacular brindle coat with white bib and socks. She is an absolute sweetheart and loves everyone! You'll love Lola, too. Come meet her today!
ANGEL is an orange tabby tuxedo cat who is unhappy being in a cat cage. She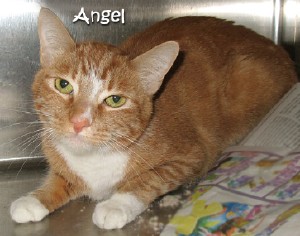 acts kind of shy, but she's actually very affectionate and just wants to go home with a kindhearted adopter. Angel is declawed and promises to be no trouble as an "inside only" feline companion.
The Inyo County Animal Shelter has an amazing selection of adorable cats and lovable dogs. Please adopt one today. Visit in person on County Road in Big Pine or on-line at www.ICAREforPets.org. HOURS: Tuesday thru Friday, 10 am to 3 pm, Saturday and Sunday 11 am to 4 pm (closed Mondays). Phone 760-938-2715. Photos by Lisa Schade of ICARE