PETS of the WEEK – August 5, 2010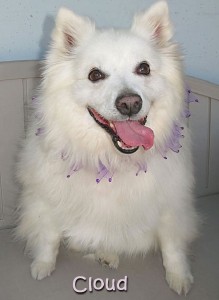 CLOUD is a darling American Eskimo with the most joyful personality. He is about 5 years old and just the sweetest dog you'll ever meet. Eskies require regular grooming and Cloud looks his best after a bath and brush. He loves to go for walks, too!
JEMMA is an 11-month old white and tabby cat who had 4 kittens, POOKIE, PINKY, PARIS &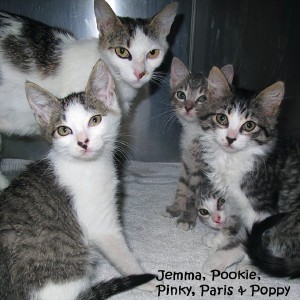 POPPY. They are all healthy, affectionate and more than ready to start their new lives outside the Animal Shelter with wonderful adopters.
The Inyo County Animal Shelter has an amazing selection of adorable cats and lovable dogs. Please adopt one today. Visit in person on County Road in Big Pine or on-line at www.ICAREforPets.org. HOURS: Tuesday thru Friday, 10 am to 3 pm, Saturday and Sunday, 11 am to 4 pm (closed Mondays). Phone 760-938-2715.