Donation Fund Established in Petroglyph Vandalism Case (Press Release)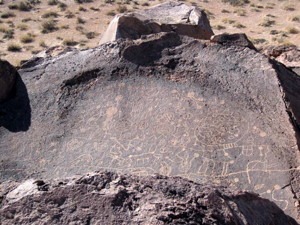 The Eastern Sierra Interpretive Association is accepting donations following destruction of petroglyph panels at a major rock art site north of Bishop.
Donations can be mailed to the association at 190 E. Yaney St., Bishop, CA 93514. Those interested in donating also can call the association at (760) 873-2411 during normal business hours.
Donors should specify where they want to money to be used:
Petroglyph vandalism reward fund;
Interpretive opportunities (to show how the damage has affected the overall panel);
Adopt a camera for continued site monitoring/surveillance;
Fund archeological site stewardship training and volunteer opportunities.
The Bureau of Land Management (BLM) Bishop Field Office and the Bishop Tribe are offering $2,000 in reward money, $1,000 each, for information leading to the arrest/conviction of the responsible individuals who damaged petroglyph panels at a major rock art site on the Volcanic Tableland north of Bishop.  The perpetrators removed or damaged rock art at five locations within the site.
"The panels that were taken are irreplaceable," said Bernadette Lovato, BLM Bishop Field Office manager. "Our top priority is to recover them intact."
Greg Haverstock, Bishop Field Office Archaeologist, said "the damaged site was a pristine example of Great Basin rock art and hunter-gatherer domestic, religious and subsistence activities.  The location of archaeological materials, feature remains, and the rock art clearly portray the activities that occurred at the site during the past 3,500 years."
The site is protected under the Archaeological Resources Protection Act and is listed in the National Register of Historic Places.  This site is one of the most significant rock art sites in the region and is still used by the local Paiute for ceremony.
Convictions on ARPA violations can result in fines and/or prison terms.  In addition, ARPA provides for civil fines, either in conjunction with or independent of any criminal prosecution, and forfeiture of vehicles and equipment used in the violation of the statute.
Anyone with information can contact Melody Stehwien at (760) 937-0301, or Eric Keefer at (760) 937-0657, both in the BLM Bishop Field Office.