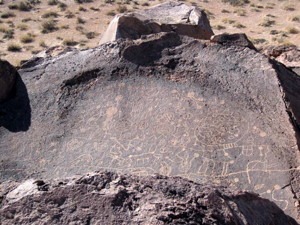 According to the Bureau of Land Management, someone has damaged or stolen petroglyph panels at five locations in a major rock art site within the volcanic tableland north of Bishop.  BLM has offered a $1,000 reward for information leading to the arrest and conviction of those responsible for the petroglyph damage.
In a press release, BLM Field Office Manager in Bishop Bernadette Lovato said, "The individuals who did this have destroyed an irreplaceable part of our national cultural heritage."  Lovato said BLM has increased surveillance of the sites and is working with other agencies to catch the culprits and recover the petroglyphs.
The rock art site, according to BLM, is protect3ed under the Archaeological Resources Protection Act and is listed in the National Register of Historic Places.  BLM says the site is one of the most significant rock art sites in the region and is still used by the local Paiute Tribe for ceremonies.
Greg Haverstock, BLM Bishop Field Office Archaeologist is quoted as saying that the rock art in question "clearly portrays the activities that occurred at the site during the past 3,500 years."
BLM says that these violations can be prosecuted as felonies and first-time offenders can be fined up to $20,000 and imprisoned for up to one year.  Second-time felony offenders can be fined up to $100,000 and imprisoned for up to 5 years.
Anyone with information should contact Melody Stehwien at 760-937-0301.