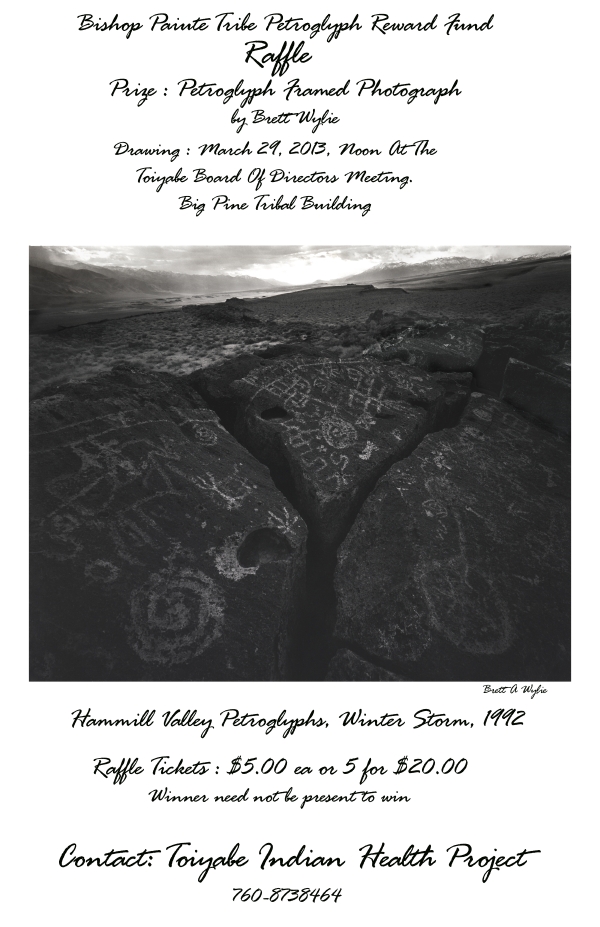 To increase the reward fund designed to help capture the thieves and vandals who stole and defaced ancient petroglyphs near Bishop, the Bishop Paiute Tribe has launched a fundraising raffle.
The Petroglyph Reward Fund Raffle features a framed photo by Brett Wylie of the Hammill Valley Petroglyphs during a winter storm. Tickets are now available at Toiyabe Indian Health Project at 52 Tu Su Lane in Bishop. Tickets may also be available at downtown businesses. We will let you know.
The Eastern Sierra Interpretive Association had set up a fund for a reward and for purchase of surveillance cameras and training of site stewards. At last count, the fund had grown to just under $10,000 – most for a reward. Debbie Eilts of the Association said donors have been "very passionate about finding who did this."
In fact news of the petroglyph thefts and damage hit news outlets worldwide. Greg Haverstock, BLM Archaeologist in Bishop, confirmed that the rock art is thousands of years old and part of the current Paiute Tribe's ceremonial tradition. Haverstock said Europeans documented the rock art prior to 1890 and geological evidence shows them to be thousands of years old.
At least four petroglyphs were completely cut out of the rock and dozens of other artworks were scarred by hammer strikes and saw cuts. The thieves are believed to have used ladders, electric generators and power saws to steal the ancient art.
The Eastern Sierra Interpretive Association continues to receive donations. Check out the website at www.esiaonline.com or call 760-873-2411. For raffle tickets, get more information at 760-873-8464. Tickets cost $5 each or 5 for $20. Winner need not be present to win.