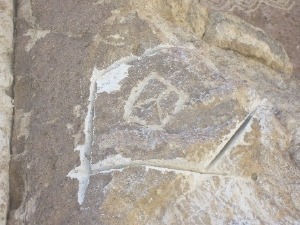 Just under $10,000 has now been donated to a fund related to the major theft and vandalism of ancient rock art near Bishop last November.
Bureau of Land Management investigators continue to work on the case that gained global attention. More than one suspect used a power saw, generators and ladders to cut out and take at least four ancient petroglyphs, leaving dozens of others damaged. Agent Eric Keefer told Sierra Wave Media this month that the investigation continues but that nothing else could be said at this point.
Shortly after the thefts and vandalism were revealed, the Eastern Sierra Interpretive Association set up a fund for donations. Donors could specify that their money would go to the reward fund in search of the perpetrators, or to buy surveillance cameras, or to pay for site stewardship training.
Debbie Eilts of that organization said that they have collected just under $10,000. Most of it will go toward the reward to solve this crime. She said donors have been "very passionate about finding who did this."
A certain amount has gone to purchase surveillance cameras. One agent on the case said that the climbing community has donated funds as have many others. More details are expected from the Bishop Paiute Tribe and BLM.
Meanwhile, Toiyabe Indian Health Project has organized two raffles to raise funds for the petroglyph protection and crime resolution. Associate Director Christie Martindale said photographer Brett Wylie has donated two prints of the petroglyphs. Tickets are available at Toiyabe Administration, 52 Tu Su Lane, and tickets will be available at Bishop downtown businesses where one of the photos will go on display.