Press release
Mammoth Lakes, CA – On Saturday, June 22, from 3:00pm to 5:00pm, the Mammoth Lakes Police Department, located at 58 Thompsons Way, will be selling 2019-2020 dog licenses for the Town of Mammoth Lakes. Dr. Gaylon TeSlaa and the staff of Alpen Veterinary Hospital will also be onsite with low cost vaccinations.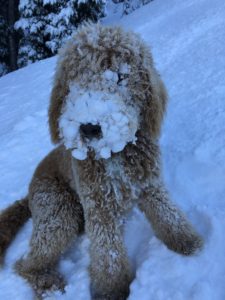 If your dog does not need a rabies vaccination, you may purchase just the dog license which is $20.00 for spayed/neutered animals or $50.00 if they are unaltered. Please bring along your proof of spay/neuter and current rabies vaccination certificate. The new TOML dog license is valid through 6/30/20.
If you do need vaccinations for your dog or cat, the prices at this low cost clinic are as follows:
Dogs:
Rabies: $10.00
DHLPP: $24.00
Bordetella: $16.00
Lyme disease: $26.00
Rattlesnake: $20.00                      Influenza: $28.00
Cats:
Rabies: $10.00
FVRCP: $24.00
FeLV: $24.00
FIP: $35.00
All forms of payment are accepted including credit cards, cash and checks. If you are paying by check and will be purchasing a license and vaccinations, please remember that you will be paying two separate bills.
For everyone's safety, your dog must be leashed and your cat in a carrier. If your animal doesn't do well with others, please leave them in your car until you complete the paperwork and the vet will come to your vehicle to administer the vaccinations.
If you are unable to attend the licensing clinic, you may also purchase your 2019-2020 TOML dog license at the Mammoth Lakes Police Station at 58 Thompsons Way, Monday through Thursday from 8:00am – 5:00pm and Friday from 8:00am – 4:00pm.
California law requires all dogs over the age of 6 months to be licensed and vaccinated against rabies. If you live within the Town of Mammoth Lakes, you are required to license your dog.
For further information, contact Christina Ackerman at (760) 965-3702, or [email protected].