PET CORNER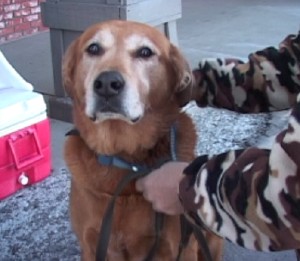 Fireworks Frighten Pets and Overload Animal Shelters
by Lisa Schade of ICARE
Pet owners are being asked to take special precautions to make sure their pets don't run away during the upcoming Independence Day holiday celebrations. The Fourth of July always means an influx of lost pets coming into the Inyo County Animal Shelter. We usually end up with several extra stray dogs during this holiday. This year, our animal shelter is already at capacity without adding preventable strays.
Dogs and cats have more sensitive hearing than ours, and fireworks are frightening to them. Even calm pets can panic at loud noises. Dogs have been known to jump fences and even break through windows or chew through leashes when frightened by loud fireworks. Therefore, we are advising people to take the following precautions to protect their pets and keep them safe at home over the upcoming holiday."
Never take a dog with you to a fireworks display or parade. A frightened dog can easily pull away from the leash, run off in a panic and get lost. Pets belong at home where they are safe and comfortable.
Make sure your dog has current, accurate readable Identification Tags. If you are take your dog away with you, a luggage tag makes a good temporary ID. If you have recently changed your address or phone number, change the ID immediately. Many pet supply stores have instant tag-making machines.
Keep your dog inside, and don't leave him unattended if the sounds of fireworks can be heard, especially if you don't know how your pet reacts to loud noises. Don't leave dogs outside, even in fenced yards.
If your dog begins cowering, panting, pacing, whining or crying at the sound of fireworks, move him to an area of the house where the noise is most muffled and stay with him. Distract him by playing or doing something he enjoys. Don't try to calm the dog by stroking or petting. This only rewards unwanted behavior. If you know your dog is afraid of loud noises, plan ahead to find a quiet place for him.
If you find a lost pet, take the animal to the nearest animal shelter. Or place a "found" ad in the local newspaper and post notices in the neighborhood.
The Fourth of July celebration is for humans. Please take the necessary precautions to reduce the risk of losing your beloved pet.
This article is presented by ICARE (Inyo County Animal Resources & Education), a non-profit organization dedicated to the welfare of companion animals. ICARE's Spay/Neuter Program provides financial assistance for those who can't afford to spay or neuter their cats and dogs; and promotes the adoption of Shelter animals. You can contact ICARE at 760-872-3802 (e-mail: [email protected]) or P. O. Box 76, Bishop, CA 93515 or visit our web site at: www.ICAREforPets.org