There has been a lot of discussion in the Eastern Sierra community about John Muir Trail permit administration this winter. Deb Schweizer, Public Affairs Specialist for Inyo National Forest, provided this update to Sierra Wave Media.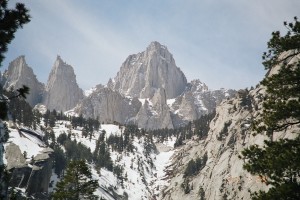 Background: There is a long-standing agreement between parks and forests for local wilderness permits in the Sierra Nevada region (Inyo National Forest, Sequoia and Kings Canyon, Sierra National Forest and Yosemite National Park). This agreement means that these national parks and forests will accept hikers with a permit issued by another local agency where the trip begins, and a permit was valid if the trip was for continuous wilderness travel. The four agencies have agreed to apply a consistent definition of continuous wilderness travel.
Exiting to resupply was never part of a locally issued wilderness permit. This includes a JMT permit.  However, in the past, Inyo National Forest Trail Rangers were making an exception to allow resupply. In recent years it had been widely publicized that you could leave the trail, but it was not a term of the permit. Wilderness Rangers are documenting misuse of these permits. An example is people leaving the trail for extended periods and then returning where they left off well past when they were permitted to be traveling through an area. These misuses are well beyond the spirit of a resupply and then returning to the trail.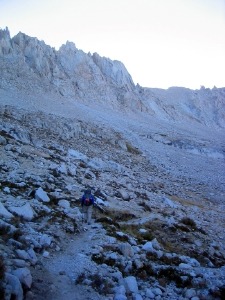 Last year, Kearsarge Pass had four times the traffic of previous years, greatly exceeding the quota mandated to manage impacts at Kearsarge. We would be remiss if we do not address these resource impacts and wilderness management issues.
Concern: Local businesses that provide resupply services, the John Muir Trail communities, and many others have expressed concern for loss of business and experience if resupply was not allowed.
Solution:  Leadership on the Inyo National Forest wants to be responsive to our communities and the experiences that people seek in the Sierra Nevada. We also want to be good partners with our neighboring agencies and help address the collective concern for managing an increasingly popular and busy trail corridor.
"The Inyo will continue to allow exit for resupply for JMT and other local permits with a long-distance hike," said Tammy Randall-Parker, Forest Supervisor for the Inyo National Forest. "However, we are asking our community, both locally and in the JMT community, to adhere to the spirit of a resupply and to offer constructive solutions that help us manage these wilderness areas."
The Inyo National Forest will be reaching out to our partners, stakeholders, and interested publics over the upcoming year to define what resupply looks like in the Sierra Nevada region.