On the water scene, Mammoth's Water Board faced the potential for permanent reduction of outdoor water use. With the belief that this could end up another less than wet year, water officials around the State have begun to tighten up on water use.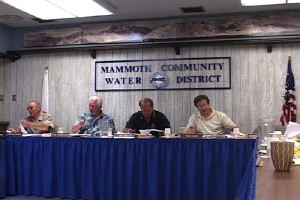 When they met before the holiday, Mammoth's Water board talked about management requirements for outdoor water use reduction on a permanent basis. They talked about reduction of the amount of days customers could irrigate as well as exceptions to proposed rules. An ordinance that would revise the water code will come out for approval at the Board's January 17th meeting.
At that January meeting, the Water Board will also talk about the Water District home buyers assistance program.