Saturday, February 28, 2015 at 10 am at the Metabolic Studio IOU Garden,
Main St. @ Willow in Lone Pine
The Metabolic Studio is hosting Conversations About Water during the Centenary of the Owens River LA Aqueduct. Conversation Number 90, entitled Permaculture Design for Water Scarcity: Drought to Resilience, will feature ancient water harvesting techniques that support community resilience in the face of climate change. This one hour workshop, led by Carmen Gonzales, an Environmental Specialist with the Owens Valley Indian Water Commission and Certified Permaculture Designer, will qualify for one hour Continuing Education Credit for local Master Gardeners.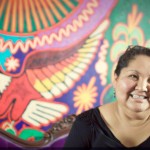 Permaculture Design for Water Scarcity: Drought to Resilience
Rainwater is the cleanest source of free renewable water that is available to us. Because we often structure our buildings and land to drain water away, however, we lose this precious water resource as it runs away from our home. There are many ways to catch and use this blessing from the sky. Carmen will share water harvesting techniques inspired by permaculture that draw upon ancient knowledge about how to work with water. Design strategies that are built on holistic-systems-thinking protect water quality, soil biology, and ecosystem diversity while providing abundance for communities and resilience in the face of climate change.
Water harvesting techniques that will be discussed will include proven technologies used by Permaculture Designers around the world to honor water and heal watersheds. You will learn how to turn your landscape from a drain to a sponge to soak up the precious water that falls from your sky. Becoming a wise steward of our precious rainwaters is an important step we can take to create resilience in the face of climate change and the current drought cycle.
Techniques learned from great permaculture teachers such as Geoff Lawton, Sepp Holzer, and Brad Lancaster, will be presented. Permaculture techniques such as swales, terraces, and keyline design, and rain gardens can be effective strategies for hydrating parched soils, harvesting water, improving water quality, regenerating springs, and creating the conditions beneficial for a healthy ecosystem to grow. The true power of Permaculture is that the solutions for many of our water problems already exist— and that knowledge can be used to take a hands-on approach with projects that are cost-effective.
About Permaculture Design
Permaculture is an ecological design science that focuses on creating healthy relationships. Improving the way we relate to the water, land, and each other is a vital component of helping to restore watershed function. Drawing from the inspiration of personal healing through working on water protection projects, Carmen has been able to connect deeply with water to better understand how to work passively with it. A Permaculture Designer uses innovative ideas and tools to allow for living systems to flourish naturally. When we learn to listen to the language of nature, we can create the space for water to be honored as a sacred life giving force while supporting the cycles of life that help to keep water clean.
Carmen Gonzales is an Environmental Specialist and Permaculture Designer with the Owens Valley Indian Water Commission (OVIWC). She began working in the environmental field in 2000 and has been dedicated to working to helping Tribes protect water, land, and people over the past 14 years.
She began managing the CWA 106 Program for the OVIWC after working for the past 7 years for the Fallon Paiute-Shoshone Tribe. She is excited to bring her passion for healing the relationship between water and the people to the Owens Valley. Always an "edge walker," Carmen has been working to find the balance between good science, traditional knowledge, personal healing, and cultural evolution.
As a water quality scientist, she has been working to shift the community consciousness about the critical importance of watershed protection in these critical times. As a Permaculture Designer, Carmen focuses on raising awareness about the power of working in collaboration with the cycles of nature, rather than against them.
Carmen is driven by the vision of supporting the work of revitalization of Native communities through building relationships that nourish land and life. Carmen received her certificate in Permaculture Design in September of 2010 from the Regenerative Design Institute in a course taught by Penny Livingston-Stark and Brock Dolman.
Saturday, February 28, 2015 at 10 am at the Metabolic Studio IOU Garden,
Main St. @ Willow in Lone Pine.