– Press release
It's a question Bishop Mule Days gets all the time: When are those beautiful black horses coming back to Mule Days?
Well, public persistence has paid off.
This May, Bishop Mule Days will welcome back the amazing Percheron Thunder. The six-Percheron hitch driven by Jason Goodman is schedule to appear in most of Mule Days' weekend shows, as well as during the Saturday morning parade.
Goodman has worked with draft horses most of his life. He began Roman Riding – a method of horseback riding in which a person stands astride a pair of horses – at the 2006 World Percheron Congress in Lexington, Virginia. The massive Percherons belong to a breed that originated in France. Originally bred for use as war horses, now the Percherons are most often used as work horses. Recognized for their intelligence, agility and willingness to work, the Percherons can weigh an average of 2,200 pounds and stand an average of 18 hands, 2 inches tall.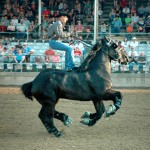 What does Goodman hope to show through the horses' performances? His answer, in short: the inherent athleticism of heavy horses and the historical significance of draft animals. Many people have the perception of a draft horse being a lumbering animal. They don't know how fast and athletic these animals are. Besides that, a lot of people have never seen how these horses work together.
Goodman has driven the Percheron hitch for audiences around the county. His appearances include the Wrangler National Finals Rodeo; the Calgary Stampede; Cheyenne Frontier Days; San Antonio Livestock Show and Rodeo; Reno Rodeo and the Black Hills Stock Show and Rodeo.
Recognized four times as one of the Top 5 specialty acts by the Professional Rodeo Cowboys Association, Goodman holds the honor of being the only draft horse driver to ever perform at the prestigious Wrangler National Finals Rodeo.
Jason and his wife and partner, Rose, make their home in Ft. Collins, Colorado.
Tickets for all Mule Days event are now available. Call (760) 872-4263 or visit MuleDays.org for details.