Peggy Hollis was born November 10, 1959 to Leon and Janie Lay at Northern Inyo Hospital. She was born into pioneering families. Angus McMurtie married Teenie Ellerbrook who owned and operated Sabrina Lake Resort in the early 1900's. Jonni and Jonee Lay arrived in the Owens Valley Inn.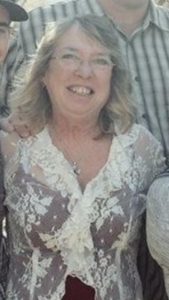 Peggy's inherent love of the mid-1900's Owens Valley was derived from her grandparents. Peggy was a life long resident, who graduated from Bishop Union High School in 1977. Peggy explored the country, but always returned home to the Owens Valley where her heart always stayed.
The only thing greater than her love of the Owens Valley, was her love for family, friends, and the underdog. Her special love for Alyssa "Magpie" and Blake shined for all to see.
Peggy gave of herself tirelessly to whomever was in need. Peggy's love of country and those who served were especially clear to her heart.
    She was preceded in death by her father Leon, mother Janie, and her second father Woody Carrington. She is survived by her husband, Norm Hollis. Her children Anne Feigner (Steve Spry), Jason Feigner, Heather Keathley, Jess Keathley, James Hollis (Clare Hollis), Jolene, and Jaclyn Hollis. Grandchildren Noah, Jake, Jonah, and Mikah Keathley. Alyssa "Magpie",Blake, and Monie Hollis. Peggy's siblings Mike and Paula Carrington, Patty and Rick Holaday, Betsy and Steve Young, Robert and Teresa Lay, and Mary Lou and Steve Cobbett, as well as numerous nieces and nephews.
A celebration of life will be held Sunday, May 21st at 1:00pm at the VFW. In lieu of flowers, please donate to Project Healing Waters 5201 E. 7th Street, Long Beach, CA 90808