MLPD News release
Mammoth Lakes, CA – On Tuesday, January 2, 2018, the Mammoth Lakes Police Department responded to a vehicle versus pedestrian traffic collision.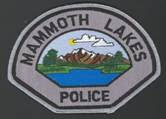 A 46-year old male West Hills resident was struck by a vehicle at approximately 1600 hours in the 3300 block of Main Street. The pedestrian was conscious at the scene and transported to Mammoth Hospital by Mono County Paramedics.
The driver of the vehicle, a 54-year old female resident of Mammoth Lakes, stopped immediately after the collision. From initial witness statements and evidence at the scene, it appears that the driver failed to yield the right-of-way to a pedestrian crossing the roadway within the marked crosswalk.
The Mammoth Lakes Police Department would like to remind drivers to be alert and cautious of pedestrians and to follow the direction of crosswalk traffic signals.