A car versus pedestrian accident stood out as a reminder to all of our towns. Mammoth Police described the mishap as a case of both the pedestrian and the driver not looking.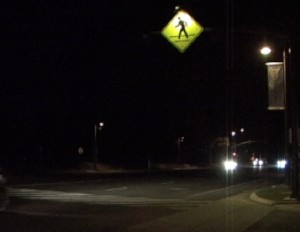 Mammoth Police Sergeant Karen Smart said that a 17 year old Mammoth girl was crossing Main St. in the crosswalk at the Laurel Mt. Rd. intersection.
An Exeter, CA man, 53-year-old David Tomlinson, was driving east on Main St. in the right hand lane. Sergeant Smart said that their statements and witnesses revealed that the driver was distracted by someone else crossing the street from the other side of Main St. Statements confirmed that the pedestrian had put her head down and just walked into the street. So, neither one saw the other and the car's side mirror hit the pedestrian. She was treated at Mammoth Hospital for a possible head injury.
Sergeant Smart said that both the driver and the pedestrian can't just assume they have the right of way. "Just because you push a button, doesn't mean you can immediately cross the street," said Smart.
She added that while vehicles are supposed to yield to pedestrians, the law also says that a pedestrian must exercise due caution before entering a crosswalk.