Press release
The Friends of the Eastern California Museum's celebration of Inyo County Sesquicentennial continues this week with a history presentation by local historian and author Rob Pearce.
On Friday April 22 at 7:00pm at the Bishop city Council Chambers,  Pearce will be giving a slide show presentation titled " One Family's Legacy: 157 year tie to the Owens Valley"
Rob Pearce was born in Bishop, California and traces his Owens Valley roots back 5 generations.  Pearce is the grandson of long time Inyo County civil servant  A.A. Brierly who served Inyo County for over 65 years in a variety of positions. Pearce is also the author of several books on different topics of Inyo County history.
Pearce's presentation is the second in a series of yearlong presentations that are sponsored by the Eastern California Museum in celebration of Inyo County's 150th anniversary.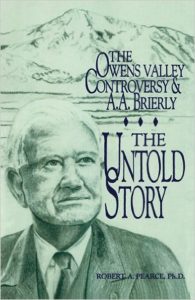 Don't miss Bishop's own Rob Pearce's this coming Friday April 22, 7pm at the Bishop City Council Chambers.  Refreshments will be provided.
For more information you can contact David at 760 920-8061.