Update from KCNP:
We're happy to report that missing hiker Stephen McGuire has been located. Though he's tired, he's in good health. His progress along his route was delayed by winter storms.
When contacted, he asked us to pass on his appreciation for the rescue efforts. He'd like to recognize the Air Force Rescue Coordination Center, the Fresno County Sheriff's Office, Devil's Postpile National Monument, Inyo National Forest, and El Dorado National Forest's Carson Pass Information Center
News release
KINGS CANYON NATIONAL PARK, Calif. May 27, 2017 – Park Rangers are seeking information from the public to aid in the search for a missing hiker, 67-year-old Stephen McGuire, from Washington.
Mr. McGuire has been hiking the Pacific Crest Trail northwards since March, and uses the trail name "Bible." He was last seen near Kearsarge Pass in Kings Canyon National Park on Friday, May 18th, by another hiker who noted with concern that Mr. McGuire seemed tired and low on food. He was reported missing to the US Forest Service on Wednesday, May 23rd.
Mr. McGuire has not yet collected his next planned food resupply, located in Mammoth, CA. His previous resupply would have lasted him until approximately May 22nd. While Mr. McGuire is an experienced hiker, he is not familiar with the area, and higher elevations in the Sierra Nevada have experienced winter storm conditions in recent days.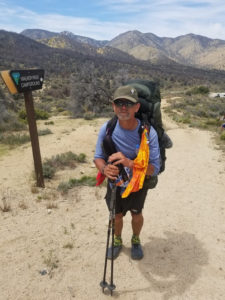 Mr. McGuire is 5'6" tall, athletically built, Caucasion, and has black hair and a beard, both partially gray. He is outfitted with a black puffy jacket (pictured), and believed to be carrying a green backpack and green tent.
Personnel from the Sequoia and Kings Canyon National Parks are currently working with Inyo National Forest and the NPS Investigative Services Branch to gather information that will aid in the search for Mr. McGuire. If you have any information, or if you have hiked between Mt. Whitney and Reds Meadow since Thursday, May 10th, whether or not you think you saw Mr. McGuire, please call the tipline at 888-653-0009.