Services will be held at the Church of the Nazarene Lone Pine on June 16th, 2018 at 10:00 AM with the graveside service to follow immediately at Mt. Whitney District Cemetery.
There will also be a celebration of life at the VFW hall about 1:00 PM for Paul Max Skinner who passed away peacefully on Thursday, May 24th at the Southern Inyo Hospital in Lone Pine, CA. Friends and family are invited to attend the services and celebration of life. Paul was 83.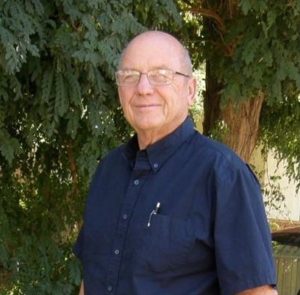 Paul was born on September 14, 1934 in Lone Pine, Calif., the third of 4 children born to William and Ruby (Wiltfang) Skinner. Paul lived in Lone Pine most of his life besides about 20 years where he lived in Mesa, Arizona.
He attended elementary and High School in Lone Pine, after graduating he had earned a scholarship to pay his tuition to attend Pasadena City College. He then completed his education at the Mackay School of Mines at the University of Nevada, Reno.
On December 4, 1955 Paul had married his High School sweetheart, Winona Marie Christenson. They were very happily married for over 49 years raising 3 wonderful daughters. He instilled morals, integrity and respect in his 3 girls which has created a loving bond within his family.
Paul worked as a metallurgist and assayer for most of his life. He loved fishing, hunting, hiking, all kinds of sports and car racing. While in Arizona, he and his wife Winona who went by the nickname 'Winky', had an opportunity to travel across the United States and parts of Europe as travel guides. Paul had many lifelong friends, some that he would meet for coffee each morning to solve the worlds problems which he enjoyed doing very much.
After the passing of his first wife, he met and married Brenda Peter, a wonderful woman who cared for and loved him the last 6 years of his life.
Paul was preceded in death by his parents, Bill and Ruby Skinner.
He is survived by his sister, Patricia Boyer of Lone Pine, CA; brother, Gene Skinner of Reno, NV; sister, Susan and husband Les Shelton of Sacramento, CA. Daughters, Joni Stewart of Shelbyville, IN; Jan Mullen of Fort Klamath, OR; Inger and husband Bill Drake of Eloy, AZ. Grandchildren, Blair and husband Tryg VonBrandt, Paul and wife Chelsi Stewart, Austin Drake, Kendell Drake and numerous nieces and nephews.
In lieu of flowers, please send donations to The Southern Inyo Hospital.