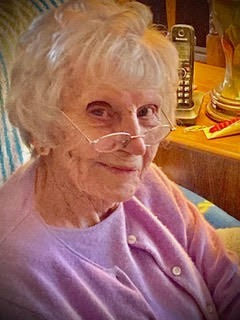 Patsy Darlene Walkup April 2, 1927 – June 16, 2023
Bishop — Patsy "Darlene" Walkup went to be with the Lord on June 16, 2023. She was 96.
She was born at home, on April 2, 1927, in Craig, Missouri, to Hobert and Marie (Quimby)
Lawrence.
At the age of 16, she was baptized at the First Christian Church (Disciples of Christ) in Craig,
MO.
She graduated in 1945 from Craig High School. She was on the debate team, played the flute in
the band, was a cheerleader, and was crowned football queen.
In 1947, she married the first boy she ever dated, Carl Jackson Walkup, "Jack". They were
married in Hiawatha, Kansas, and were married for almost 57 years. Jack preceded her in death
on January 7th, 2004.
To this union were born 4 children; Vaughn, Greg, Lesli, and JoEllen. Jack and Darlene raised
their children in the Presbyterian Church in Bishop, and all have continued to nurture their faith in the Lord. They feel so blessed to have had believing parents whose faith was an important part of their lives.
Jack and Darlene came to Bishop in 1951, where Darlene was a home- maker, and Jack was a
teacher at Bishop Union High School for 30 years, 1951-1981.
Darlene was a devoted wife, moth- er, grandmother, and great-grand- mother.  She enjoyed many activities, where dancing was her favorite. She loved ballroom, square, and line dancing. She also enjoyed reading, bicycling, and word search puzzles.
She was a strong woman, had class, and rarely, if ever, said a bad word about anyone. She made
friends easily, and was loved by all who knew her. She was preceded in death by her parents, husband, loving sister Merva, brother-in-law Jack, and many, many friends.
Darlene is survived by children, Vaughn and Jane Walkup of Carlsbad, Ca., Greg and Debra
Walkup of Bakersfield, Ca., Rod and Lesli (Walkup) Opp of Bishop, Ca., and Mark and JoEllen
(Walkup) Langford of Bishop, Ca.  She was blessed with 13 grandchildren and 24 great-grandchildren.
Private services for family and close friends, will be held on July 1, at 10:00 at East Line St.
Cemetery.