Patricia Helen Riggins, 77, a resident of Chalfant for 57 years was born in Los Angeles, CA, November 10, 1938, she passed away December 26, 2015 in Bishop, CA.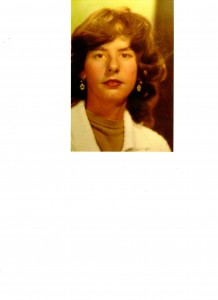 Patricia grew up in the towns of Wilmington, , San Pedro, and Torrance California.  Then, about 1948 when she was 10 or 11 of age, she moved to Round Valley when her step-father received employment with the Department of Water and Power.
Then in 1958, her and her then husband at that time bought property in Chalfant Valley and together built a house, adding on as money became available.  This was not easy since Chalfant at that time had no electricity and all lumber was cut with a hand saw.  Then in 1967 she married Harris Riggins and together they raised four children.  Besides being a wife, a nurse, a seamstress, a cook, a decorator, an accountant, a secretary, a gardener, a maid, a dishwasher, and house painter, she also ran a fire wood business, gathering, cutting, stacking, and binding fire wood for sale for a few years.
After all the children left the nest, Patricia spent more time doing her heart felt desire of Christian Ministry.  Preaching the Good News of Gods Kingdom to anyone who would listen, from Lone Pine, CA to Old Benton, from Keeler to Aspendale. She made friends with people in Chalfant, both east and west sides, Hamill Valley and Benton.  If someone needed a partner to work with she would make herself available.
Patricia was preceded in death by her long time husband Harris of 48 years and daughter Jammie Johnston. Survivors include step-son Edward Riggins and wife donna; sons Richard Robertson, Harris Riggins Jr., and wife Maryann, and Ken Riggins; Eight grandchildren: Katie Riggins, Jessica Murray, Mike Riggins, Lisa Johnston, Chris Riggins,  Sierra Shunkwiler, Starla Shunkwiler, and Ashley Shunkwiler; Seven Great Grandchildren: Darren Dondero, Levi Williams, Chet Jenkins, Demi Jenkins, Ruby Jenkins, Kaiya Bradshaw, and Draiden Roberts.
Those who really knew her well knew she had a big, big generous heart. Her humor and her friendship will be greatly missed.
Memorial services will be held  1:00 PM  Saturday, January 16, 2016 at the Kingdom Hall of Jehovah's , 2935 North Sierra Hwy, Bishop.