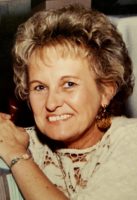 It is with great sadness that we announce the passing of Patricia Louise "Pat" Stanley, who passed away peacefully in the early morning hours on February 4, 2022 at Northern Inyo Hospital.
Pat was born in Van Nuys, CA, on June 25, 1933, to Vada and Edward Johnson. Pat's father Edward, had grown up, living, working and running dog sled teams at his parents business, the Crystal Crag Lodge in Mammoth Lakes, CA, and he always wanted to move his family back to the Eastern Sierra where he had grown up. When the opportunity to go to work for Cal Electric came up, Edward, moved his wife Vada and daughter Pat, who was very young at the time, up to Poole Plant at Lee Vining, CA. Pat grew up in Lee Vining, and attended grammar school there, often telling stories of the heavy snowfall and how she would have to ski to school or at least down to the bus stop when the snow got to deep. When she was in middle school, she moved with her family down to Bishop when her father transferred down to the Cal Electric plants to work and live at the power plants along Bishop Creek.
Pat graduated from Bishop High School in 1951. That same year, she met her lifelong partner Link Stanley, and they married on October 12, 1951, their marriage lasted for more than 70 years. They lived in Fish Lake Valley for a short period before Link joined the Air Force in 1953, it was about this time that their daughter Cindy was born. When Cindy was 6 months old, Pat packed up her car and her daughter and they drove across the country to join Link in Caribou, Maine where he was stationed with the U.S. Air
Force at the time. They lived in Maine until 1956, before returning to California.
After his service to his country, Link got a job with Caltrans, and they were eventually able to come back to the Owens Valley where they lived in Big Pine for a number of years, during this time their son Chris was born in 1958. After transferring to Bishop, Pat and Link moved with their family and began making their permanent home in Bishop. Pat worked at various retail stores in Bishop over the years, including Foster Freeze, The Shoe Box, and The Country Store. She was always by Link's side at his Bar-B-Ques helping to prepare and serve food, and was involved in the Homecoming Rodeo Association with him. She was an gifted seamstress and enjoyed making clothes and quilts for her family and friends, and could be found outside all summer tending to her vegetable and flower gardens, and she loved anything to do with hummingbirds and did her best to have them around all year. But she especially loved spending time with her grandchildren, Trisha and Troy, and later her great grandchildren Owen and Tychus and never missed any of their activities.
Pat was preceded in death by her husband Link, her son Chris, and her brother Bill. She is survived by her daughter Cindy and husband Eric Johnson; granddaughter Trisha and husband Grant Wallace; grandson Troy Johnson and wife Kristy; and great grandsons Owen Hildenbrand and Tychus Johnson, and numerous cousins, nephews and nieces.
Graveside services for Pat along her husband Link will be held on Saturday, February 12, 2022 at 1:00 pm at the East Line Street Cemetery. A reception will immediately follow at the VFW Hall in Bishop.
In-Leiu of flowers, the family is requesting that donations be made in Link and Pat's name to the Laws Railroad Museum.