Patricia Ann Elbers was born March 27, 1933, in Schurz, Nevada, to Frances Leah Brown, mother, and George Brown, father. Pat lived in Round Valley most of her younger years growing up with her two brothers, Kenneth and George, and sisters, Bette and Polly.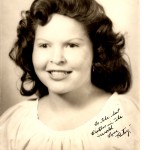 She attended Round Valley School. Her and her siblings rode to school on horseback or walked to and fro, in rain, snow or hail.
Patricia graduated from Bishop Union High School in 1951. In her younger years, she spent all her free time riding with her father at the Pine Creek Pack Station, working for numerous ranches, Arcularious, Evans and others, and Jack's Waffle Shop and the Y Café.
Patricia worked at the old Von's for twenty years, retiring in 2002.
Patricia had three sons, Gregory Tripp, deceased, Dale Renfro and Edward Elbers. She was blessed with grandchildren, Tanya Elbers, Jared Elbers,Eric Renfro, Annette Apalatea, and Cheyanne Renfro; and great grandchildren, Michelle and Cole Barnes. She devoted her life to her family, making sure that all of them were loved and happy always with a smile on her face and love in her eyes.
She was preceded in death by her mother, Frances Brown; father, George Brown; brothers Kenneth and George Donald Brown, and sisters, Bette Alexis and Polly Cox; grandson, Dale Renfro, Jr.; nephew Kenneth Brown, Jr.; Charles "Chuck" Renfro and Edward Elbers.
Patricia is also survived by numerous nieces, nephews, cousins, and great nieces and nephews.
Funeral services are scheduled for Saturday, February 28, 2015, at 11:00 a.m., at the Brune Mortuary, 325 West Elm Street, with burial to follow at the Pioneer Cemetery and potluck location to be announced.