Patricia A. Stone (Summers) 1942-2018
Born December 9, 1942, in Bishop, CA, Patricia Stone passed away peacefully at her home on Friday, July 20, 2018. She was surrounded by her loved ones in her final moments of passing.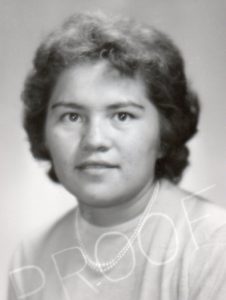 Patricia was born and raised in Bishop, Ca, where she resided on the Bishop Paiute Reservation. She enjoyed, sewing, knitting/croche, quilting, reading and spending quality time with her family. You would often find her in her yard gardening.
She met her one true love at the age of 16, Anthony Stone, of Big Pine California to whom she was married to for 55 years. She dedicated 23 years of her life to the Bishop Day Care and Headstart Facilities. Working with children was something she enjoyed very much throughout her life. She will be greatly missed by her family and friends and all that knew her.
Patricia is proceeded in death by; Husband; Anthony Stone; Father, Albert Summers; Mother, Betsy Summers; Brother, Bob Summers, Sister; Catherine Barlow; Sister; Carol Turner. Surviving brother; Edward and wife Jeanette Summers of Bishop, Ca., surviving Sister; Francis and husband Danny Romero of Bishop CA. Survivors include; Son; Paul Stone and wife Angie of Big Pine, California; Daughter, Katrina Stone of Bishop, California; Daughter; Leann and husband Harrison Begay of Grand Prairie, Texas; Daughter; Patricia (Stone) Cunha of Bishop, California. Grandchildren include; Melissa Smith, Raymond Stone, Samantha Stone, Ta Voo See Fredericks, Anthony Eddy, Harrison Begay Jr., Summer Begay, Morgan Cunha, John- Anthony Cunha; Great Grandchildren; Mason Smith, Luke Stone, Haiwee and Sai-yah Fredericks, Anevay Begay, Yazzie Castillo. Numerous aunts, uncles, nieces, nephews and cousins.
Services will be held on Saturday, July 28, 2018. at 11 am at Brune Mortuary. Pot luck luncheon will follow services at the Bishop Indian Education Center Gymnasium, located on Barlow Lane.