After a long illness, Patricia Adele Broward passed away at her home on January 29, 2019.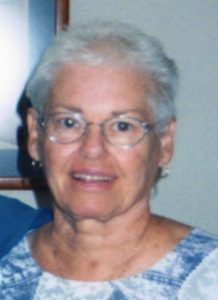 Pat was born in an isolated farmhouse in Alden, Kansas on August 22, 1930. She was delivered by the country doctor and not expected to live, yet her grandmother and her Aunt Lacassa revived her by plunging her into tubs of hot and cold water, she went on to live a long life of 88 years.
She was a raised in Southern California during the time of endless orange groves and summer camp outs on Huntington Beach. In 1949 she married Paul Broward and began to raise a family. She is survived by her children Steven Broward (Anne Marie) and Paula Ciapponi, (Robert) she is predeceased by her beloved son Kurtis Broward.
The family moved to Bishop in 1965 and Pat quickly became involved in the community through many endeavors such as the League of Women Voters, 4-H, the TriCounty Fair, Crafty Ladies, and the United Methodist Church. She had a close and strong circle of friends.
Pat enjoyed many summer camping trips, carefully planned by her son Steven, with her grandchildren. Making memories with her family was very important to Pat. She loved her grandchildren Kevin Broward and Sara Jo Ciapponi deeply and unconditionally.
Family and friends were everything to Pat, she believed life was to be lived and enjoyed. She will be greatly missed.
Our family is very grateful for the expert care, love and support she received from Rebecca Spratt, and many other kind caregivers during the last two years.
Pat is survived by her husband, children, grandchildren and brother Gary Gunter.
On behalf of her love of the Eastern Sierra and the Owens Valley donations can be made to the Eastern California Museum, 155 N. Grant St., Independence Ca. 93526