From the Bishop City Council
Pat Gardner served on the City Council for nearly six years. She was elected to serve on the City Council for a four-year term on November 6, 2012 and was re-elected to another four-year term in November 8, 2016.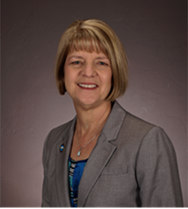 While serving on the City Council Pat served as Mayor from December 8, 2014 through December 14, 2015. She served as Mayor Pro Tempore from December 9, 2013 through December 8, 2014, and again from December 11, 2017 through the date of her passing, March 24, 2018.
Pat also served on the following City Council Committees during her time in office:
League of California Cities, Desert Mountain Division from 2013 to 2018
Local Agency Formation Commission (LAFCO) from 2013 to 2018
Eastern Sierra Council of Governments (ESCOG) in 2013
Eastern Sierra Transit Authority (ESTA) in 2013
Indian Gaming Local Community Benefit Committee (IGLCBC) from 2014 to 2018
City/County Liaison Committee from 2014 to 2016
Local Transportation Commission (LTC) from 2015 to 2018
North Sierra Highway Corridor Advisory Committee from 2016 to 2018
Owens Valley Groundwater Authority from 2017 to 2018
Pat was also very active in her community and frequently attended meetings and supported the Bishop Chamber of Commerce and Visitors Bureau, and the Inyo Associates.
Pat Gardner's parents moved their family to Bishop in 1960 when her father transferred within California Department of Transportation. She attended Bishop Elementary School and graduated from Bishop Union High School in 1971. She left the valley to attend The College of Idaho in Caldwell, Idaho, where she received a Bachelors in Science in Biology and Psychology with a secondary teaching credential. She then attended Northwestern University Medical School, Programs in Physical Therapy in Chicago, Illinois, where she earned her Graduate Certificate in Physical Therapy. She and her husband Ted moved back to Bishop in 1981 to raise their family, where their two sons, David and Chris, both graduated from Bishop Union High School.
During those years, Pat also served on the Bishop Union Elementary School Board for four terms.
Pat was also a private business owner. In 1986 she purchased Sports Medicine and Rehab Therapy and continued that practice until 2011.
She also worked part-time as a physical therapist for Pioneer Home Health or S.P.O.R.T. She enjoyed treating patients and helping them to actively enjoy the beautiful valley we live in.
She was active in the United Methodist Church where she enjoyed teaching Sunday school, serving on governing committees, and supported the programs of United Methodist Social Services.
She also volunteered her services to Hospice of the Owens Valley, now a part of Pioneer Home Health Care, Incorporated.
She was thankful to wake up each day to the beautiful sunrises over the White Mountains and to end each day with a view of the glorious sunsets over the Sierras.
She will be sorely missed.
MEMORIAL SERVICES FOR PATRICIA L. GARDNER HAVE BEEN SCHEDULED FOR:
Saturday, April 7, 2018
11:00 A.M.
United Methodist Church
205 N. Fowler Street
Bishop, CA 93514
The family has requested, in lieu of flowers, to please make a donation to the charity of their choice.
Immediately following the services, a reception will be held at the Bishop Elks Lodge located at 151 E. Line Street in Bishop.