USFS news releases
MONO AND INYO COUNTIES– The California Department of Transportation (Caltrans) has, or has scheduled, closure for the following passes: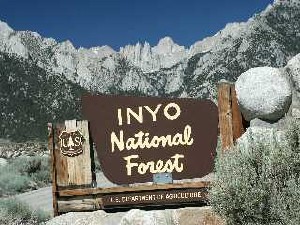 State Route 203 (SR-203) from Mammoth Mountain Inn to the Mono/Madera County Line is now closed for the winter season.
State Route 168W (SR-168W) (Bishop Creek) will temporarily close at the winter gate just above Cardinal Village for maintenance work and incoming inclement weather on Monday, November 19th at 9:00 a.m. The reopening of this route is dependent upon the completion of road work and favorable weather.
Several factors influence the temporary closing, opening and seasonal closures of our pass roadways.  Storms, accumulation of snow, and road conditions are all considered in the decision-making process by Caltrans leadership. Yosemite National Park confers with Caltrans on SR-120 (Tioga Pass) to coordinate the closure of park entrance gates as well as Caltrans winter closure gates.
Additional passes under the responsibility of Caltrans District 9 and subject to temporary and permanent closure at any time include; SR-89 (Monitor Pass), SR-108 (Sonora Pass), SR-120E (Mono Mills Road), SR-158 (June Lake Loop, north and south junctions), SR-168E (Westgard Pass), and SR-270 (Bodie Road).
For the safety of motorists and Caltrans crews, continual updating of these passes will be assessed until the seasonal closure of each is decided.
Caltrans reminds drivers to carry chains and to be prepared for winter driving conditions. Not having chains in your car, even if four wheel drive, is a punishable offense. Motorist safety kits should contain blankets, water, food, a shovel, gloves, a flashlight, and sand or kitty litter to provide traction in case your vehicle becomes stuck. The traveling public is advised to drastically slow down in heavy winter conditions and proceed with caution.
For the latest road condition information, visit the Caltrans QuickMap site available for download online and on mobile phones atquickmap.dot.ca.gov or call the Caltrans Road Condition Hotline at 1-800-427-ROAD (7623). Changeable Message Signs with flashing beacons will have information regarding the pass closures visible along the highways.
#
For the safety of workers and other motorists, please Be Work Zone Alert.
##
Mono Lake Ranger District
Roads open: Monitor Pass (Hwy 89), Sonora Pass (Hwy 108), Tioga Pass (Hwy 120 w), Saddlebag Lake Rd., Hwy 120 E (Benton), Bodie (Hwy 270) Lundy Canyon June Lake Loop, Parker Lake Rd.
Campgrounds open: Lower Lee Vining (est. closing 11/30), Glass Creek (est. closing 11/30).
Campgrounds closed: Upper and Lower Deadman, Hartley Springs, Big Springs, Obsidian Flat, Big Bend, Aerie Crag, Gull Lake, June Lake, Oh Ridge, Reversed Creek, Silver Lake, Ellery Lake, Junction, Moraine, Tioga Lake, Sawmill Walk-in, Saddlebag Lake, and Saddlebag Lake Group Camp, Aspen Grove, Lundy Canyon (county).
The Mono Basin Visitor Center is closed for the season.
Mammoth Ranger District
Roads open: Lakes Basin Rd., Old Mammoth Rd. to Lakes Basin, Inyo Craters, Mammoth Creek, Mammoth Scenic Loop, Laurel Canyon.
Closed: Hwy. 203 (continuing to the Reds Meadow Rd.) at Mammoth Mountain Inn.
Campgrounds open: Mammoth Mtn. RV Park (private, year round).
Campgrounds closed: Crowley Lake (BLM), Convict Lake, New Shady Rest, Old Shady Rest, Sherwin Creek, Pine Glen Family/Group, Twin Lakes, Lake Mary, Lake George, Pine City, Coldwater, Agnew Meadows Horse, Agnew Meadows Group, Agnew Meadows Family, Upper Soda Springs, Pumice Flat, Reds Meadow, Devils Postpile, Browns Owens River.
The Mammoth Welcome Center is open daily 8:30 am-4:30 pm. Closed holidays (Thanksgiving Day, Christmas Day, New Year's Day).
The Devils Postpile Ranger Station is closed for the season.
White Mountain Ranger District
CARMA restoration area closure.  Respect the restoration efforts. Do not travel w/motorized vehicles beyond closed gates or park off of established roadways where vegetative seeding has occurred.
Roads open: McGee Creek Rd., Rock Creek Rd., Buttermilk Rd., North Lake Rd., Hwy 168 to Lake Sabrina, South Lake Rd., Big Pine Canyon (Glacier Lodge) Rd., White Mt. Rd. is clear to the Barcroft gate, Silver Canyon Rd., Wyman Canyon Rd.
Roads closing: Hwy 168 at the Aspendell gate on 11/19/18.