Geraldine Janice Pasqua   1932-2016
Our dear Auntie has left us for the final time. We honor her memory each day and look for comfort in those memories.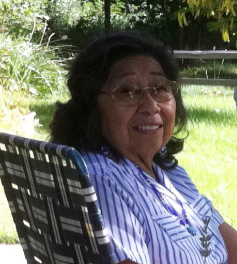 She passed away on June 13, 2016 surrounded by her family at the home of her sister Laurine Napoles.
Geraldine was born at the Sunland Indian Reservation Bishop Ca. on January 28, 1932 to James Warlie, Owens Valley Paiute and Ida Warlie, Mono Lake Paiute. She grew up in both Bishop and Schurz, NV. She is survived by her Husband Eugene Pasqua, her sister Laurine Napoles, nieces Gail Manuelito, Val Goodwin and Debra Williams, nephews Rick, Mark and Ron Napoles. Great nieces and nephews include Karen and John Manuelito, James Napoles, Wade Williams, Elvis Napoles. Geraldine had numerous family throughout Indian County, including the Bobb family Raymond Jr, Monroe, Victor and Geraldine Gurule from Schurz NV, and the Pasqua family of Susanville CA. Her family lovingly knew her as Aunt Geb.
Geraldine graduated from Bishop Union High School in 1950. After high school she worked in the garment district of Los Angeles. There she met and Eugene Pasqua who was in L.A. as part of the American Indian work relocation program.
Geraldine and Eugene were married in Reno NV in 1959. Geraldine supported her husband's career traveling with him to cities and tribal areas in California, while always maintaining a home in Bishop. She found time to share with her family going on camping trips, to Pow-Wows and visiting amusement parks.
She carried her values of Family and Cultural preservation wherever she went. She cared for us by cooking good meals and by demonstrating a hard-work ethic.
She raised us as a second Mother taking us on many adventures during the best summers of our lives. A homemaker, a gardener, she was not to be defined by others, she walked her own path. Geraldine was of the Paiute people and leaves us with lasting memories and examples of how to live.
Join us to honor her life on Saturday July 23, 2016 at the Brune Mortuary at 11:00 am with internment to follow at Pioneer Cemetery, West Line Street. Pastor Stan Summers will officiate. A luncheon will follow at the Community Center on North Barlow Lane.