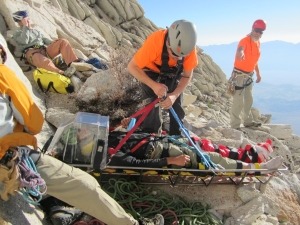 By Carma Roper, Inyo County Sheriff PIO
On Sunday May 20th at approximately 1:30PM, Inyo County Sheriff's Office received a cell phone call requesting help for fall victim.  According to the report, the victim was on the east face off the north ridge of Lone Pine Peak (at approximately 11,800 foot elevation).  A group of four climbers were ascending the summit when hiker Pratyush Tiwary, age 28 from Pasadena, California, fell sustaining possible fractures to both legs and his back.
With the assistance from CHP helicopter H-40 out of Fresno, a combination of rescuers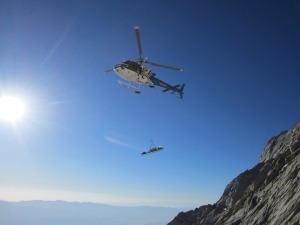 from Inyo County Search and Rescue and China Lake Mountain Rescue were inserted onto the summit of Lone Pine Peak. The rescuers climbed down to Tiwary reaching him at approximately midnight.  Rescuers carried extra equipment and stabilized Tiwary and his companions for the night.
On Monday morning at approximately 6:30AM, CHP helicopter H-40 was able to extract Tiwary.  Tiwary was treated at Lone Pine Hospital and transferred to an advanced medical care unit.  The rescue team assisted the remaining members of Tiwary's party off Lone Pine Peak.