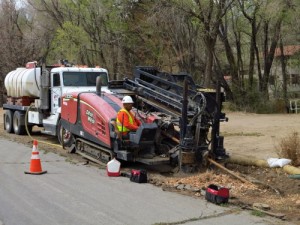 Small Section of HWY 158 Temporarily Closed to Facilitate Digital 395 work  (Press Release)
-Closure to expedite work prior to snowfall
Mono County, Calif. –Caltrans will temporarily close part of Highway 158 (June Lake Loop) starting on October 15th until November 8th, weekdays only from 7:00 am to 6:00 pm. This closure will expedite work so that it can be completed before significant snowfall in the area.
A detour route has been established using North Shore Drive which allows access to June Lake through an alternate route.
Crews are also currently working in the June Lake Village on county roads; Knoll Ave., Bruce St., and Granite Ave.
Mono County appreciates the public's cooperation and understanding during this construction work. If you have questions regarding this temporary closure please contact Nate Greenberg, Mono County's Digital 395 Project Coordinator, at (760) 924-1819 or Jeff Walters, Mono County Acting Public Works Director at (760) 932-5459.