As Mammoth Lakes officials work through a new image for the resort by way of a branding slogan, the research that led up to that revealed an important point – visitors want good parking. On that note, Mammoth Lakes still lags behind.
In June, Mammoth Town Manager Rob Clark said that Mammoth Mountain would work on formation of an assessment district in the vicinity of the parking structure which is planned for Canyon and Hillside. In late June, Clark speculated that excavation for the new parking structure site might move ahead before winter. Now, Clark calls that plan a "missed hope of building before this winter." He said that MMSA has decided to move ahead with the Eagle Lodge project, with parking "on the back burner."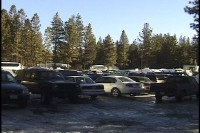 Clark said the Town did put together a business deal with Mammoth Mountain entities that still stands. The Town will put up $3.2 million from the sale of rights of way in the Village area and $1.7 million from Developer Impact Fees. MMSA will contribute $2 million for its 50 spaces and about $11 million would come from the assessment district.
The danger – that construction will start on Hotel One across from the Village, which would remove the surface parking. Town Manager Clark said that Hotel One project has not started and that it will not move ahead immediately.
Clark did say that it is possible that the parking structure project could be a "one-season build" which could put parking in place before the surface lot disappears.