All over California, schools now debate the basis to lay off teachers – seniority or merit. The education code defines seniority, and most schools use this method to direct pink slips. In the case of Bishop High's teacher/ football coach Bill Egan, parents disagree with the seniority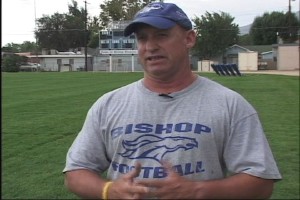 method.
When the Bishop High School Board last met, a parent, Christine Carr, presented a petition to keep Coach Egan employed on the Bishop campus. In a few days, Carr had gathered some 200 signatures.
Ms. Carr stood up for Coach Egan's qualities and dedicated influence on students. "The football program and the student athletes will suffer if Coach Egan is removed from the campus," said Carr.
School officials handed out 7 preliminary pink slips to teachers in March. Coach Egan was one of them. He was bumped by a teacher hired a month or so before him who teaches 3 periods. Superintendent Maggie Kingsbury said that part-time teacher is entitled to stay.
Officials explained that serious state budget problems and declining enrollment made the lay-off notices necessary. They did offer Coach Egan a teaching job in Independence at the Keith Bright school for juvenile hall students. Ms. Carr said that move would take the coach away from the campus and the students. "He needs to be accessible to students," said Carr. "He is also responsible for and oversees the new weight facility at the school." She called Egan "a pillar of our community. A role model. Please reconsider your decision," she said to the Board.
Chairman of the Board Carl Lind said he had recruited Coach Egan, who was the head of the U.S. Ski Team before coming to Bishop. "He has dedicated himself to the high school. I don't think anyone does more than Bill Egan," he said. "People like Bill are rare."
Other board members said they would make every effort to get Bill Egan back on the high school campus.