Parents of students in Bishop schools say they dont like the fact that Football Coach Bill Egan received one of 7 pink slips. They also do not support Egan taking a teaching job in Independence at the Keith Bright continuation school.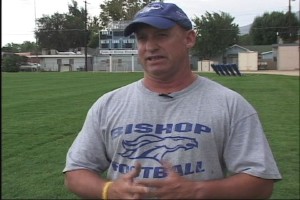 Petitions have started to turn up around town. They say simply, I support keeping teacher and head coach Bill Egan employed on the campus of Bishop Union High School.
Parents told KSRW that the school district offered the Independence job for Egan to avoid lay-off. Parents privately say they cant support that idea since it would take Egan away from campus and his work with students.
Egan, well-known for his work with the U.S. Ski Team before coming to Bishop High in 2001, has, since that time, taken the Bishop Broncos to the play-offs every season.
The popular coach is also well-known for his personal work with teens and the positive results.
Parents plan to speak out at next weeks Bishop High board meeting at 6:30pm.
Meanwhile, at Mammoth Schools, long-time Coach Tom Gault has retired. Athletic Director Scott Luke said that Coach Gault gave official notice four weeks ago. He said of Gault, It was a shock. He will be missed. He created something special for Mammoth and was a molder and educator of young men through football.
Mammoth School District has advertised to fill Gaults coaching position within the school and through CIF and advertising.