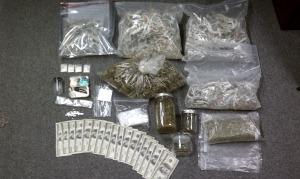 Narcotics 101 Education
December 3, 2014-  Heroin, Marijuana, Meth, Spice, Ecstasy, and Oxy; these are just some of the illegal and prescription drugs being abused by adults and teens in our Eastern Sierra communities. But as a parent, how do you know if your child is using? What do you look for? What are the symptoms? These are the questions being asked of local school officials, counselors, and law enforcement by worried parents of teens and pre-teens throughout Inyo County. And these anxious parents are the reason for the "Parent's Guide to Narcotics" event being held next week at the Bishop High Auditorium.
According to BUHS Principal Randy Cook, he was approached by a group of concerned parents regarding drug use by teens. "This group of parents was troubled. Not necessarily because they thought their kids were using illegal drugs, but because they had no idea what to look out for in order to catch them and stop them, if it happens." Local law enforcement officers will be conducting the educational night and they plan on including as much detail as possible regarding drugs available in Inyo County. According to Cook, "the presentation will break down each drug and go over the basics; giving parents, grandparents, and other guardians tools to detect if their child is involved with drugs."
The "Parent's Guide to Narcotics" event will be taking place Tuesday December 9th at 6:30pm at the Bishop Unified High School Auditorium at 301 N. Fowler St. in Bishop. Expect to hear from law enforcement what each drug looks like, what they smell like, how they are ingested, and what symptoms a teen on each drug often exhibits. Additionally, the presentation will include drug packaging information, teach parents to recognize drug paraphernalia items, and identify the various slang terminology used.
To help with the evening's education, a Spanish language interpreter will be giving real time translation for parents and community members for whom English is not their native language.
You do not have to be a parent or have a child in the school system to attend this event. This information could be of use to a variety of employers, coaches, clergy, and people looking for child care. All community members are invited to attend.