Pamela Jean Charley 1950-2015 Pamela passed away at her home after a long courageous battle with cancer surrounded by her husband and sons on February 28th.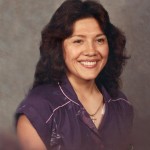 To many Pam was a friend, sister, cousin, bowling partner, babysitter and a smiling face but to us she was our mom; the most loving piece of this family's heart. Someone we went to for advice, support and a listening ear. There is no other woman stronger.
No matter what she was doing; operating a chainsaw, stacking wood, doing yard work, cleaning her cars or house she wouldn't stop until the job was done. Pam enjoyed spending time with her family, wrestling her sons, bowling, fishing, hunting, beading, listening to oldies music and taking care of the ones she loved.
Her kind, compassionate spirit will be truly missed by all and her infectious, enjoyable, hearty laugh will never be forgotten.
Pam was survived by husband of forty years Benjamin Charley Jr; Son Benjamin III; grandchildren Angelina, Adeline, Benjamin IV, Juan, Boaz, Gloria, Giovanna, Jacob; Son Richard and his wife Veronica, grandchildren Yesabella, Richard Jr.; Son Chris and his wife Charlie, grandchildren Henewats, Chris Jr., Gene; Son Raymond and his wife Katie, grandchildren Raymond Benjamin, Mila; Son LeRoy and his wife Brynae, grandchildren LeRoy Jr., Vincent; Son Peter and his wife Hailey, grandchildren Destiny, Miranda Jr., Tristan, Peter Jr., baby; Son Tahedah and his wife Sharon Nelson, grandchildren Anonda, Jack, Tahedah Jr., Draven. Siblings Marcella Masten, Edward and Karlinda Keller Sr., Don and Debbie Watterson, Steve and Beverly Coons, Lester and Ann Keller, Brian and Veronica Keller, Tim and Barbara Keller, Vanessa Keller. Father and mother-in-law Benjamin and Adeline Charley Sr. Brother and sister-in-laws Gene and Judy Charley, Rocco Charley, Renee and Al Montoya, Dirk and Maria Charley, Shelby and Rhonda Charley Sr., Kathleen and Tom Green and numerous nieces and nephews. Pam was preceded in death by father LeRoy Keller; mother Melba Keller; sister Tracy Keller; sister-in-law Regina Charley-Raintree; granddaughter Lily Guadalupe Charley.
Services will be as follows: Rosary Thursday, March 5th at 6pm at OLPH, funeral service Friday, March 6th at 10am at OLPH, internment at Sunland Cemetery following funeral service, reception at OLPH following internment. In lieu of flowers donations may be made in her memory to Our Lady of Perpetual Help Catholic Church and/or Eastern Sierra Breast Cancer Alliance. Thank you to all our friends and family for all the meals, kind words and prayers.