"From city halls to county courthouses, from the State house to the White House – bureaucrats control our lives.  Public servants who often try to become our masters.  People whose salaries we pay, but what goods and services do we get?  On Sierra Wave's Bureaucrat Beat, we'll report what they're up to."  That's the Bureaucrat Beat declaration of dissatisfaction, but as you may know, Bureaucrat Beat talks about so much more.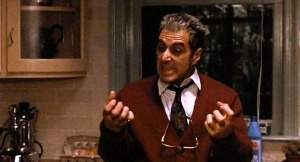 As we all know, John Boehner was re-elected by Congress as Speaker of the House.  But get this – News flash!  The Speaker of the House of Representatives does not have to be a member of Congress, according to the U.S. Constitution.  Wow.  Have at it.  Who do you want???  Of course, we would have to convince Congress to go along.  My vote is on Al Pacino.  Can't you just see him standing up there next to the Vice President.  He says his famous line, "Just when I thought I was out, they pulled me back in!!!"  Yeah, Al.  Whip those people into shape.  Threaten to kill them if you have to.  After all, you are the Godfather.
Or maybe the soft approach.  Jimmy Fallon could just laugh them into sanity.  Movie Director Quentin Tarantino could show them how to get their violence fix on the screen and quit the ridiculous expense of jillions of dollars on useless wars and military bases in more than 20 countries – Italy??
No, not Donald Trump. We would support Ralph Nader. Maybe Dr. Phil. Love to hear your ideas.
And in other bureaucratic corners – hypocrisy does not begin to describe the Army Corps of Engineers.  Just hope they don't come to your neighborhood.  In one Los Angeles Times story, reporter Louis Sahagun revealed that the Corps – without notification, environmental review or even much obvious thought – clear-cut 43 acres of  what is described as lush habitat and home to "one of the most diverse bird populations in Southern California."   It's in the Sepulveda Basin's wild side and part of a 1980s Army Corps project to turn part of the LA River flood plain into a designated wildlife preserve.
Now, all that is left of plants, trees and homes to wildlife are dirt and broken tree limbs.  The Army Corps spokesman said merely that they had to maintain access to infrastructure designed to deal with flooding. Oh, really.  And, it took destruction of 43 acres with no accountability?!?!  Outrageous.
Meanwhile, in other pages of the LA Times, the Army Corps issued a warning to a Santa Fe, New Mexico man for cleaning and grading a few hundred yards of a dry wash on his own property, alleging this could cause dirt to flow into the Rio Grande River.  The Corps also alleged removal of vegetation might increase concentrations of toxic nitrates from fertilizers.  They said he should have gotten a permit.
Beware the tyranny of bureaucracies.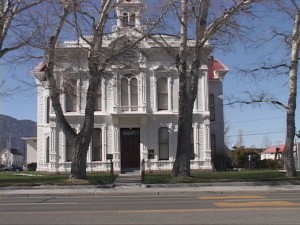 What's up with the exodus of managers from the Mono County Courthouse?  Hey, maybe it's just coincidental that the Treasurer, Finance Director and CAO have chosen to leave.  Seems like Jim Arkens just fixed up his house and threw a house warming party.   Too much contention in the enclave of Bridgeport?  A new board majority making some people uncomfortable?  Inquiring minds do want to know.
In Inyo, what if local government simply refused to provide law enforcement and roads to BrightSource Energy and their mega solar installation?  BSE doesn't want to pay for it.  The State will decide.
Some in Mammoth wonder why they're holding meetings over development of Main Street.  Who will pay for that??!!
Not Jay Becker of MLLA.  We might select him as the Man of the Year in Mammoth Lakes.  He stared down the Town clear into bankruptcy court and into a settlement agreement.  Man of the Year only means he had the most impact on the Town.  We're not commenting on his virtues or vices.  Only his actions.  He and his company will get $50 or $60 million over 23 years.  Becker and his lawyers proved that a deal is a deal.  A hard lesson for Mammoth and one that will impact years to come.
Back to Sacramento where the LA Times reported that high officials at the California Parks Department concealed millions of dollars out of "fear of embarrassment and budget cuts."  Good grief.  The Attorney General just released a new report.  Parks officials had hidden a surplus of nearly $54 million at the same time the administration threatened to close some 70 parks, including the Mono Lake Tufa Reserve.
Most of the hidden money was due to accounting error??!!! $20 million of it was deliberately stashed away.  The report said they were afraid their funding would be cut further if the surplus were known.  Governor Brown has appointed a retired Marine Major General Anthony Jackson to head Parks.  Go get'em General.
The holidays in Mammoth Lakes  did not produce great violence or major problems.  Just lots of snow.  Police Chief Dan Watson told the Mammoth Town Council that four Mono County deputies, eight CHP officers and one Fish and Wildlife warden came to town to help.  A few DUI arrests and that's about it.  Curious about why Fish and Wildlife (used to be Fish and Game) came to town, Councilwoman Jo Bacon wondered if "our party-goers are now considered wildlife."  On a more serious note, Bacon stated that "Our community disagrees with Fish and Wildlife's measures."  Sounds like a lot of others do too.  Former DFG is now under an order to focus on conservation of animals not killing them.
Speaking of animals, does it make us feel any better that apes suffer mid-life crises?  Not really.  Researchers were high on their findings and concluded that the stuff of
human breakdowns could be biological.  Orangutans and chimps displayed "sadness, withdrawl and frustration at life's midpoint", according to scientists.  But, here's some up
news from the LA Times – another study found that people who express "more positive emotions as teenagers and greater life satisfaction as young adults tend to have higher incomes by the time they're 29."  Okay – monkey or man, get happy while you're young.
Before Christmas, one young woman, 13-year-old McKenna Pope of New Jersey, said what would make her happy was for the toy maker Hasbro, Inc. to start marketing Easy-Bake ovens to boys as well as girls. She told news reporters she wanted to make it clear to her little brother that if he wants to be a chef, it's okay.  Wolfgang Puck and Bobby Flay would likely sign her petition.
With that, this is Bureaucrat Beat where we await your word on our lives in the Eastern Sierra and beyond.