Press release
Along with the beautiful autumn weather of the Eastern Sierras comes the annual tradition of the Pabanamanina Pow Wow to be held this weekend, September 28th, 29th & 30th.  Held in association with the California Indian Day celebration, this year's Pow Wow will again serve as a community gathering and homecoming for the Owens
Valley's Tribal communities.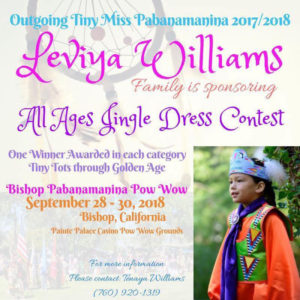 The Bishop Paiute Tribe with the hard work of its Pow Wow Committee has been
host of this event for over 30 years.  Friday will be filled with a morning parade and traditional/youth activities at
the Barlow Gymnasium but the real pageantry will begin Friday evening at the Pow Wow's 1st Grand Entry.
The Committee has been working hard to bring to our community the opportunity for everyone to see some of Indian
country's best pow wow dancers, food vendors and Native American Craft vendors.  There will be plenty of social,
inter‐tribal, exhibitions and competitive dancing scheduled with several "specials" to fill the weekend's agenda!
The committee would like to invite the communities of Inyo and Mono Counties to attend!
For the spectator, please feel welcome to bring a lawn chair & shade to enjoy festivities.  Our food vendors will be providing a variety of selections (traditional foods and contemporary) to satisfy your palates.  Also, it is well worth the stroll thru our Art/Craft vendors who will be bringing beadwork, pottery, books/music, handmade crafts and other Native American Art that is representative of the tribes throughout the country.
One of‐a‐kind items can be found and it is not too early to begin thinking about your gift‐buying!  While every Grand Entry is worth experiencing, Saturday evening is usually a special time to experience the pow wow at its best.
For the participant, the agenda will begin with social dancing on Friday night highlighting the local Paiute Traditional singing and special contests/exhibitions.  For our competitors, please be aware that contesting/points will be earned beginning Friday evening and continuing throughout the weekend.
Whether you are a social or a serious competitor, there will be plenty of inter‐tribal dancing and of course, the competitive contesting among various categories such as Jingle Dress, Fancy Shawl, Traditional, and Grass dancers.  We have several "specials"
for participants to win cash and other great prizes such as the Miss Bishop Paiute Tribe's Men's Traditional contest, the Piper Family Jr. and Teen Girl Dance Competition and our Committee Winner‐Take All Jingle and Grass Adult Specials.  And of course, we will be holding tiny tot sessions each and again, honoring our past/present military on Saturday afternoon.
The Pow Wow Grounds will open to the public on Thursday at noon for canopy set up (no vehicle‐sized canopies!).
It is first come, first served and we ask everyone to not block our entry ways in to the arena.
Our agenda highlights are as follows but also may change due to time constraints, also Inter‐tribals will fill in and competition points will accumulate during all sessions:
Friday Sept. 28, 2018 – Welcome Night 7:00 p.m. – Grand Entry Jr. Miss Princess Contestant Dance Contest
Ribbon Dancing/Circle Dancing
Announcement of 2018-2019 Jr. Miss Pabanamanina
Outgoing Jr. Miss Pabanamanina Nosidutsi Lewis-Golden Age Women Dance Contest
Outgoing Miss Pabanamanina Dania Wahwasuck-Scrub Dance Exhibition
Junior Competition
Adult and Golden Age Exhibition
Saturday Sept. 29, 2018 – Afternoon Session
12:00 p.m. – Grand Entry
Tiny Miss Pabanamanina Princess
Outgoing Tiny Miss Pabanamanina Leviya Williams-All Ages Jingle Dress Contest
Junior & Teen Competition
Owl Dance Special sponsored by Loren and Pearl Sammaripa
Veterans Honoring – Sponsored by: Susaduumu Tanugadu Ribbon Dancers
5:00 PM Dinner Break – Please visit our food vendors!!
Saturday Sept 29, 2018 – Evening Session
7:00 p.m. – Grand Entry
Golden Age Contest
Jr & Teen exhibitions
Miss Bishop Paiute Tribe Hannah Frankson – Men's Northern Traditional Dance Contest
Miss Pabanamanina Dania Wahwasusk-Scrub Dance Contest
Adult Competition Contest
Committee Specials – Men's Grass & Women's Jingle
Sunday Sept 30, 2018 – Final Session
12:00 p.m. – Grand Entry
Tiny Tot Session-Sponsored by Bishop Paiute Tribal Elders
Competition Finals
Girls 7-15 Local Girls Fancy Shawl Contest
Junior Girls 7-12 Visiting Girls Fancy Shawl Contest
Tiny Tot Special Sponsored by: Estelle Armitage and family in honor of Harla'e Dewey
Traditional Clapper Contest
Announcement of Winners