Press release
On October 29, at 3:00 pm, the Bishop Twin Theater proudly presents "The Oyler House: Richard Neutra's Desert Retreat". This beautiful film, which has captivated film festival audiences all over the world, tells the moving story of a lifetime Inyo County employee/resident, the late Richard Oyler, who, after seeing a Time magazine cover story on renowned architect Richard Neutra, had the courage in 1957 to reach out and ask Neutra to design his modest family home in Lone Pine.  This cinematic glimpse into a celebrated Lone Pine architectural treasure speaks to the beauty of the Owens Valley, the power of great architecture and the passion of one simple man's dream.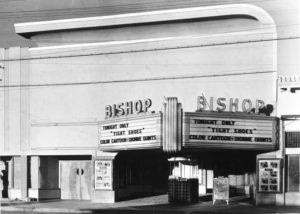 Mike Dorsey, the director of the film and Hollywood actress Kelly Lynch ("Road House", "Drugstore Cowboy", Stephen King's "Mr. Mercedes"), owner of the Oyler House since 1992, will be in attendance at the Bishop Twin for a lively, post-screening conversation. All proceeds from this screening will benefit the restoration of the Bishop Twin Theater's historic neon marquee, designed by Bishop resident Harry Holland.
Richard Neutra is justly acclaimed, along with Frank Lloyd Wright (with whom he worked), as one of the giants of mid-century architecture. Neutra's work has been shown in the New York City Museum of Modern Art and his residential architecture from the modernist elegance of the Kaufman House in Palm Springs to Los Angeles' renowned Lovell Health House (seen in the Oscar winning film "Hollywood Confidential") is revered and celebrated around the globe.
[pdf-embedder url="http://sierrawave.net/wp-content/uploads/2017/10/Oyler-House-Poster.pdf" title="Oyler House Poster
Neutra, inspired by the stark beauty of Richard Oyler's Alabama Hills site and the humble honesty of Oyler's written invitation, visited Lone Pine and quickly agreed to build the Oyler family's middle class home. An unexpected partnership, true respect and deep friendship grew between the superstar Austrian architect and the straight-talking Inyo County employee.  The result is one of the most acclaimed residences in Richard Neutra's storied career.
At its heart, "The Oyler House: Richard Neutra's Desert Retreat" is a touching celebration of Neutra and Oyler's surprising and guileless, lifetime friendship, of Richard Oyler's love of his family, of his home in the gorgeous Owens Valley and of the power of great architecture to inspire and elevate everyday life.
Join actress/homeowner Kelly Lynch and director/documentarian Mike Dorsey (Richard Oyler's grandson!) for a very special event — a stunning, cinematic tribute to the Owens Valley and the vision and friendship of Richard Neutra and Richard Oyler.
October 29th at 3:00 pm Bishop Twin Theater. A $5.00 donation towards the restoration of the historic marquee is requested to attend.