With a down economy and locals still spending money out of town, business owners in Bishop agreed on a confab to hash over, one more time, the need for business expansion in town.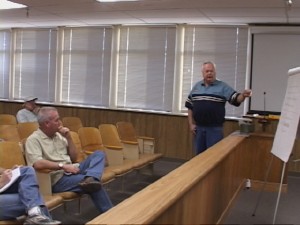 Longtime businessman and civic leader Chuck Kilpatrick joined Councilman Dave Stottlemyre to call a meeting at Bishop City Hall. About twenty or so business owners and others sat in the audience. Kilpatrick ran through some of the issues, some of the business closures and successes.
An idea thrown out more than once called for a paid consultant to identify money spent out of town and on what and why not here. Chamber of Commerce Manager Tawni Thomson said that she needs similar information. Thomson said several times a week people contact her to start a business in Bishop. They want to know what kind of business would succeed.
Alan Pietrasanta talked to the group about a business study done ten years ago by him and others. Business failures and a down economy prompted that report which identified problems in Bishop like traffic, parking and businesses closed at night. The report called for better use of natural assets and a more attractive Main St. Pietrasanta named more events, more college students, geo-tourism and better customer service as ways to energize the economy.
One business owner pointed to the lack of unity in the region – battles between northern and southern Inyo and the wall between Mammoth and Bishop.
The group vowed to meet again.