In the late 70s and 80s, the town of Independence began to shrink. LADWP moved its headquarters to Bishop, many Inyo County government departments moved to Bishop and so did the bulk of County Office of Education workers. All of those losses led to a large decline in the number of students at Owens Valley School District. Those losses have now led to an actual threat of closure.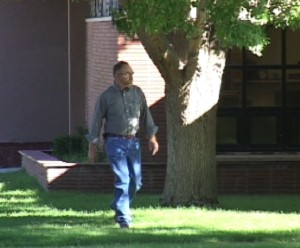 School Superintendent Joel Hampton responded to questions that the school might stand in jeopardy. Hampton said that the District was informed last week that they could be in danger of closure because the high school enrollment may fall below what California Education Code says is a minimum size. This, he said, could cause closure of the entire unified district.
Hampton said education code says that if Average Daily Attendance at the High School falls below 11, the district could close or lapse at the end of the year. Currently enrollment stands at 11 although the elementary school holds 24 students. Hampton said there is a way to save the district. He can request that the Board of Supervisors and County Board of Education agree to defer the closure for up to three years to see if enrollment improves.
Superintendent Hampton finds much positive about the school district even it struggles. He said the district does not rely on state funding and can boast that it is one of the few in the state with a balanced budget and a healthy reserve.
One of the big problems – the loss of athletic programs. Hampton said a number of students have transferred to other high schools to play sports. This has caused the high school population to slowly dwindle. He said there are currently 14 elementary students and 19 high school students from Independence who have transferred mostly to Lone Pine.
Long aware of the enrollment problems, Hampton and the school board have worked to specialize the high school. Hampton said the focus is to create an academy similar to the Eastern Sierra Academy in Bridgeport that was recently closed. He said officials believe this kind of school would attract students from many communities. He said a unique academy could provide students in southern Inyo and other towns with a college preparatory experience that would allow students to graduate high school in three years or have an academic and arts focus on high school rather than an academic and athletic. "We can provide an alternative for students who want a small high school setting."
Hampton said he feels confident that Owens Valley School will continue in some form or another. He said he has asked the Inyo County Superintendent of Schools Terry McAteer to help with options. "I am sure that he echoes my sentiment that whatever happens," said Hampton, "we need to make sure that it is the best thing for kids."
As officials examine options, Hampton said they will move forward with the plan to possibly start an Academy in the Owens Valley.