The New York Times came to town, and an article appeared in the Times on Friday.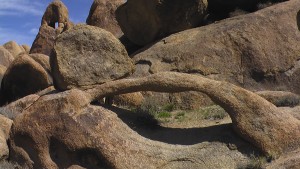 Posted in the travel section the article is entitled, Rugged Country, Rugged History in Californias Owens Valley. The author spends some time rock climbing in the Owens River Gorge and the Alabama Hills, while also taking time to visit the Manzanar National Historic Site.
The article lists a brief history of the water wars and talks about the Owens Lake bed and the newly re-watered Lower Owens River Project. The author meets the owners of the Still Life Caf in Independence, samples the coffee at the Black Sheep Espresso Bar in Bishop, while also stopping by Mountain Light Gallery.
A bit of Film History of the Alabama Hills makes the article as well.
The article only takes in a small sample of the good times to be had here in the Eastern Sierra, but perhaps that will provide a reason for a return trip.