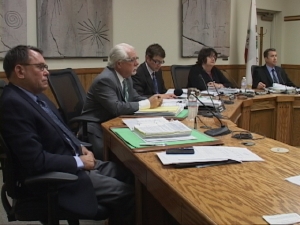 This week, Inyo Supervisors heard more about the Department of Water and Power's new Owens Lake Master Project and LA's desire to cut in half water used to control dry lake dust. They all expressed concern that some of the water savings should go to the Owens Valley and its ranchers. DWP Water Operations Director Martin Adams did not fully convey that concern to his own Board of Commissioners when he talked to them about the new dry lake plan.
Adams spoke to the Inyo Board Tuesday morning about the concept of DWP's Owens Lake Plan. In the late afternoon, he spoke before his own Board.  In the online video of the meeting, Adams said the plan has been very well received in Inyo with only a couple of disgruntled locals. He also failed to mention ranching as part of the economy until a commissioner asked him. Adams assured his Board that Owens Valley ranchers are in favor of the dry lake plan. Adams did not say that Inyo officials, ranchers and environmentalists want a share of the dust mitigation water savings.
Adams did say that the new Owens Lake project is supported by Inyo and has "opportunities" to benefit ranching.  When asked by Commissioner Christine Noonan about outreach to the Inyo community, Adams said there were 40 or 50 people in
the audience at the Inyo Supervisors meeting.  He said ranchers were there speaking about the impacts on them from Owens Lake water use.  When asked by the Board Chair about public feedback, Adams said it was "generally good."  He said one or two people don't like the export of water to Los Angeles, but, he said, "They have no generational ties and they don't understand the Long Term Water Agreement.  For the most part," said Adams, "there has been pretty positive feedback."  He said the Inyo Supervisors want DWP to work with local groups but "move ahead with the project.  They're excited something is going to happen," he said.
What Adams did not tell the Commissioners was that Inyo Supervisors pointed directly to the need for more water here as well as to a need for more trust-building by LA. Supervisor Matt Kingsley told Adams that there are "mitigation projects undone. You need to resolve that before your new project." Supervisor Mark Tillemans said it is an issue when DWP cuts back on the ranchers, and he also questioned groundwater pumping at the dry lake.
Supervisor Jeff Griffiths said there is a trust issue with LADWP. He said, "Holding the ranchers' water over our heads is hard to take. Your overall goals are good, but we need to trust but verify." Adams and others have repeatedly linked water for ranchers with water used on the Owens Dry Lake for dust control, as he did in front of the LA Commissioners.
Supervisor Linda Arcularius said that she hopes Adams will soon meet with the local Owens Lake Master Plan group who has "put a lot of work into this," she said. Arcularius also said to Adams, "You mentioned a savings of water. We hope this has positive effects in the Owens Valley." She said agricultural leases have already suffered impacts. She called for a "re-investment in the Owens Valley."
Supervisor Rick Pucci said to Adams, "If a project like yours saves 59% of the water on the dry lake, where does the saved water go? How is it shared? We want part, or all in the Owens Valley," he said. Pucci said, "It's extremely important to develop this in advance."
Adams told Sierra Wave Media that he could not commit water to the Owens Valley and that this was up to the DWP Board. However, at his own Board meeting, Adams did not tell his officials how the Inyo Supervisors feel about wanting a share of water saved on the dry lake, dismissing any problems as coming from a couple of locals who always make negative comments.  He also did not mention repeated concerns expressed by Inyo Board members about a lack of trust in LADWP.  The LA Commissioners, who did ask about Owens Valley concerns, heard essentially there were none.  They made a motion to support the Owens Lake Master Project and urged Adams to continue working through the environmental process and to make the project "shovel ready."
You can view the DWP Commissioners meeting and item #25 on the Owens Lake Master Project here – http://ladwp.granicus.com/MediaPlayer.php?view_id=2&clip_id=306