Press release
Lone Pine, CA – As thousands of migratory birds cycle through Owens Lake this spring, Friends of the Inyo and partners Los Angeles Department of Water and Power (LADWP), Inyo County, Eastern Sierra Audubon, Audubon California, Metabolic Studio, and Eastern Sierra Interpretive Association, brought the community together to enjoy and celebrate the massive return of birds to Owens Lake.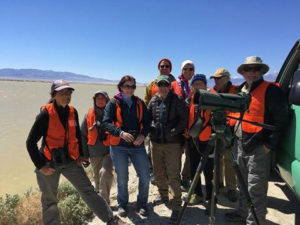 The festival, held April 28-30, brought 150 people together to enjoy the astounding
landscape, experience the wonder of birds travelling between continents, and connect to the natural and cultural history of the lower Owens Valley. Of the 150 participants, half attended the festival from outside Inyo and Mono Counties, and some came from as far away as Oregon, Washington, and Canada. Participants enjoyed birding outings on Owens Lake with local scientists and experts. Participants were also offered exploration outings to experience the botany of the Alabama Hills, the geologic history of the landscape surrounding Owens Lake, the history of Keeler, and soda ash mining on the shores of Owens Lake.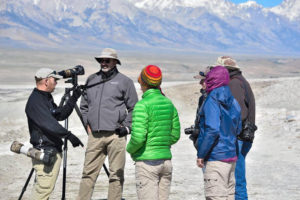 The Owens Lake Bird Festival is also proud to share the joy of birding with students at Lone Pine Elementary each year. During the week before the festival, 207 Lone Pine Elementary students got to explore birds around their community through exploratory field trips. This year, Eastern Sierra Interpretive Association coordinated the outings, with assistance from Inyo County.
"We're so pleased that the lake and her birds are receiving the recognition that they
deserve," says Owens Lake Bird Festival organizer and Friends of the Inyo Board Member Mike Prather. "This year we sold out and expect more participants next year. It took years of hard work with many organizations, agencies, and individuals, and now the word is out that Owens Lake is a wildlife viewing site at a world class level."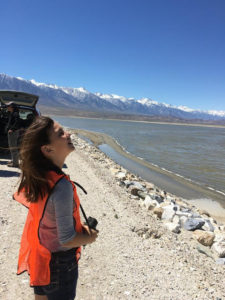 The astounding restoration progress on Owens Lake owes its success to the years of
collaboration and dialogue that took place between a wide variety of stakeholders. In a
time period of great political, social, and environmental unrest, especially at a nation level, the Owens Lake Bird Festival provides an opportunity for the public to celebrate social and ecological successes in the Owens Valley. It also reminds us that anything worth doing takes patience and time, and when everyone comes into the same room to discuss and collaborate, positive outcomes- for the land, the people and the wildlife- can occur.
"LADWP is proud to support the Owens Lake Bird Festival," LADWP Senior Assistant
General Manager of Water Richard Harasick said. "Partnering on this event allows us to showcase the hard work and care Department staff takes each day to protect wildlife habitat on the lakebed and increase visitors to this uniquely beautiful location in the Owens Valley."